Icons
|
Send to friend
9 Jan 2008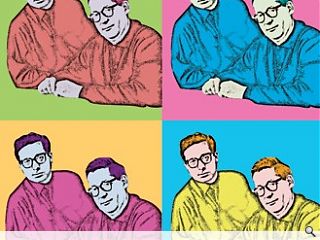 Miles Glendinning believes that it is important to view the work of GKC in a broader context. He argues that the deification of GKC prevents a genuine appreciation of the talents of the practice
GKC – the Holy Family
It's all too easy to see how today's market-driven Iconic Modernism acts as a cancer within contemporary architecture, corrupting every building type and architect into an advertisement. Nothing is 'sacred' any more, or immune from the march of sensationalism – as highlighted in the monumental kitsch of Enric Miralles's parliament design, crudely attempting to 'brand Scotland' through a mish mash of 'poetic metaphors'. But what's not so obvious is that this malign world-view also extends tentacles back into the past, grasping opportunistically at anything in its path. Its favourite targets are 'elite' episodes within 'historic Modernism' that can be repackaged and commodified as precedents of today's signature architecture.
Thankfully, our own Modernist heritage in Scotland is largely free from the distortions of selective re-appropriation. There is, though, one egregious exception: the cult of Gillespie, Kidd & Coia, a 20-year re-interpretative campaign by the 'Holy Family' (GKC acolytes, based mostly in Glasgow's Mackintosh School of Architecture) that has culminated in the current exhibition and catalogue. In this hagiographic text – physically massive yet curiously lightweight in its lack of critical and historical perspective – Holy Family members boast that contemporaries were left 'standing in awe' at GKC's designs. These were 'both simple and complex', 'timeless…unfettered by aesthetic dogma or ideological posturing' – yet grounded, inevitably, in the 'unplumbable depths' of the genius of C R Mackintosh.
The picture conveyed here, and in countless similar Family outpourings, is of architects who uncannily anticipated today's upmarket icon-makers: GKC were designer-poets who effortlessly synthesised formal imagination with critical visions of human association. Their genius glittering 'in crafted qualitative relief against a whole field of quantitative drabness', GKC's leading designers were prophets, seers, all-encompassing humanist visionaries whose 'signature' icons 'reach out to us from a sea of post-war ordinariness'. As Gordon Benson breathlessly put it at the exhibition launch: "Andy [McMillan] and Isi [Metzstein] are like Sherpas, who can discern what's really happening in society and interpret it: an architect like that can move like radar across a page, picking up, like no-one else can, what's in front of him, behind him, and on each side of him."
GKC-The Reality
But who, actually, were Gillespie, Kidd & Coia? After battling through this tangle of turgid, self-important nonsense, the reality comes as a refreshing surprise. Far from thrusting forward in the front ranks of post-war modernism, circles dominated by articulate 'utopian avant-gardists' like the Smithsons or James Stirling, with their disputatious manifestos and ever more complex visions of urban community, the 'real' Gillespie, Kidd & Coia consistently stuck to the older, traditional type of private practice, rooted in the pre-Modernist world of the 'hierarchy of decorum'. Here, the architect was still, above all, someone who designed stately monuments without wasting time on self-publicising theoretical tracts. And, unlike the flowery London-centric world of the new intelligentsia, GKC stayed faithful to their Clydeside heartland, with all its regional vibrancy as well as its blemishes of religious and educational sectarianism: the overwhelming predominance (20:1) of 'home' over 'foreign' publications in the Lighthouse catalogue's bibliography is a telling reminder of GKC's mainly regional reputation at the time, as against the absurd present day claims of their global superstardom.
As with other traditional, design-led practices, like Basil Spence's, GKC's formal, stylistic expression fluctuated radically, with resulting tensions over 'attribution': one expert historian argued recently that the shift from the classical/Art Deco work of senior partner Jack Coia to the more abstractly modernist designs of Metzstein and MacMillan was accomplished through 'a considerable ruthlessness… to exclude [Coia] from the design process', and even to portray him as 'a fool'. Yet the concern for traditional, stately 'beauty' was safeguarded: during the 1960s and 70s, the time of avant-garde 'isms' and counter-culture revolution elsewhere, GKC's most prized works were Oxbridge colleges and a seminary whose 'brief' was the 16th-century Council of Trent!
GKC – from Brand to Bust?
Over the past two decades, though, this palpable reality and regional cultural authenticity have been squandered, as the burgeoning Holy Family has pursued a relentless campaign of deification-cum-commodification. They have emptied out the real GKC, rooted in the real Glasgow, and put in its place a faceless 'brand', made up of generalised images and rhetorical slogans that could apply interchangeably to any signature architect anywhere – a travestying of the 'real' GKC that, I am sure, must bitterly disappoint Isi Metzstein, Andy Macmillan and other ex-colleagues. The cult of Mackintosh provided a strong local precedent for all this: Holy Family members were, after all, closely involved in the grotesque inflation of 'Mockintosh' in the Postmodern years. Following his sacred precedent, but in blatant defiance of any historical accuracy, GKC have now been repackaged as international architectural radicals, pioneers of a 'completely new approach to architecture.'
In the long run, these gross distortions will surely undermine rather than reinforce the agenda of the Holy Family. As with advertising or journalistic campaigns, the public must eventually become sickened by the sheer excess and repetitiveness of it all. The present exhibition was the last realistic opportunity to salvage the situation with a nuanced picture properly grounded in social, cultural and historical context – something compellingly achieved in the current National Galleries exhibition on Spence. Regrettably, the Family's suffocating culture of sycophancy prevented any such last minute 'rescue' of GKC. What is so sad is that when this bubble of hyperbole finally bursts, when architectural opinion finally turns against the self-indulgent excesses of icons like the Scottish Parliament, the very real integrity and standing of GKC, pre and post-1956, will likely be washed away too. What people won't notice, is that their real buildings were nothing like this!
Back to January 2008