Ulster architecture
17 Apr 2007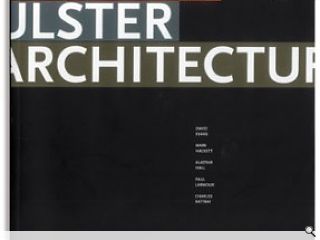 Reviewed by Gordon Murray Title: Modern Ulster Architecture Edited by: David Evans et al. Published by: Ulster Architectural Heritage society ISBN: 10 0- 900-457-66-X Price: £30.00
The latest publication from the Ulster Architectural Heritage Society is a powerful statement of intent, an architectural manifesto for the 21st century.In 1997, 20th Century Architecture in Ireland – published to coincide with the exhibition of the same name at the Deutsches Architekturmuseum – arrived as a manifesto for architects working in a newly devolved Scotland.
With a new millennium approaching, there was a search for a new architecture in Scotland. Yes, there was a new vitality and a huge leap in technical and intellectual rigour, but it was important that this was viewed in context, and not based on a tabula-rasa. It should be part of a movement, a continuity through the 20th century which built upon the legacy of architects from Lorimer and Mackintosh to Coia and Spence. In this context, 20th Century Architecture in Ireland recognised the past, while in some way plotting a future.
Since then, the Landforms exhibition at 2004 Venice Biennale has laid out our new millennium achievements, but we still have no comprehensive published analysis and few critical appreciations by which to chart our progress.
I was aware of this as I delved into this beautiful new production, an acutely edited compendium, Modern Ulster Architecture, published by the Ulster Architectural Heritage Society. This is Northern Ireland's architecture manifesto. It's a powerful statement of intent in a post-St Andrews agreement, devolved nation.
Several entries appeared in the earlier Prestel book, but are re-invigorated by Mark Hackett's stunning new photography. Most notably, JB Kennedy's Technical College in Armagh of 1972, Noel Campbell's Scandia residence of 1953 and Padraig Murray's Abbey from 1962. Given the bleak history of the intervening period, one cannot help but wonder what might have been. In the earlier book Sarah Cassidy's essay The Cultural Identity of Ireland in Literature and the Built Environment stood out. She wrote: "City and architecture are no longer the forgotten, the unmentionable, but become an integral part of identity. Robin Walker, Cathal O'Neil and Peter Doyle all either studied or worked under Mies in Chicago.
They returned to Ireland with their interpretation of his work and translated it. With others these architects played a role in enhancing and broadening Irish cultural identity. For as Oscar Wilde declared, 'It is only by contact with the art of foreign nations that the art of a country gains that individual and separate life we call nationality.'" This is also true for Ulster.
The European Modernist tradition can clearly be seen in the work of Frances Pym in his Breuer-like extension to the Ulster Museum, and presaging Herzog and DeMeuron in the Convent Chapel in Cookstown by Laurence McConville. In the new re-interpretation of a European regionalism from those, such as Alan Jones (now returning home in significant numbers after periods with major practices abroad), there is a richness in the intellectual depth of the buildings.
That is not to play down the more important contribution from those homegrown talents who stayed and put up their own resistance. Those such as Ciaran Mackel (Mackel Doherty) whose Bunscoil an Tsleibhe Dhuibh gaelic language primary school was one of the highlights of my judging the RIBA Awards earlier this year. Others, such as Fitzgerald Kennedy whose cool, almost industrial Falls Leisure Centre, are now making their mark abroad.
This year's winners – Hackett and Halls Triplicate Office and the Arches Health Centre – are notable but not overly important omissions. Perhaps the only part of the above quote not yet fully formed here is the development of the city as part of that identity, forming real places. However, the talent exists to question and replace worn out reworkings of urban design.
If architecture and architects in Northern Ireland stand at a crossroads looking down the road less travelled, then rather than looking abroad for guidance, perhaps they can work with their own modernist traditions to avoid others' more reprehensible mistakes. For despite John Cole's admirable and innovative procurement initiative (PRP), the anticipated and much-heralded massive spend in all public sectors, particularly education, will require them to grapple with PFIs and PPPs which so far have singly failed to deliver any significant quality in other parts of the British Isles.
The final section in this admirable book is titled Projects, suggesting an optimistic future and that the story isn't over yet. Watch this space.
Back to April 2007