Monograph on Portuguese architect Eduardo Souto de Moura
20 Dec 2004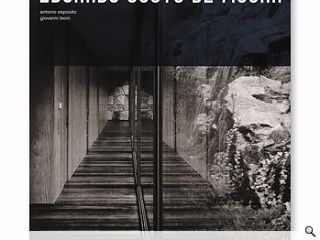 \'Eduardo Souto de Moura\'
Authors:
Antonio Esposito + Giovanni Leoni
Published by:
Electa Architecture (2003)
Price:
£45.00
ISBN:
1-904313-23-X
Whilst speculating on the formation of a Scottish genius loci, the critic Neal Ascherson declared that "a people and its stones form a single cultural landscape". This epitaph might well apply to countries such as Portugal, which, although politically and geographically peripheral, continues to excite our interest in the development of a resolutely contemporary architecture. Despite the allure of its immediate neighbour (to the east), Portuguese architects are able to garner effusive coverage in a variety of international journals.
"Eduardo Souto de Moura" goes beyond the occasional magazine article and maps out the extensive portfolio of one of Portugal's most impressive practitioners. Most architects will be aware of Alvaro Siza's work, and some may have encountered Fernando Tavora but how familiar is Souto de Moura? This triumvirate constitutes the so-called Oporto School and they share a common belief in the value of drawing, an appreciation of place and the significance of history. This loose concord gives succour to each practice and helped guide their decision to share the same (Siza-designed) office building at Rua do Aleixo.
Born in 1952, Souto de Moura is the "baby", but was taught by Tavora and worked with Siza before establishing his own practice. His oeuvre encompasses an eclectic mix of projects, including terraced houses, museums, apartments, faculty buildings, stage sets and sports stadia.
Perhaps his most celebrated project is the detached house at Travessa do Souto, Caminha (1991–98), which reshapes the terraced landscape to allow the house to nestle into a granite outcrop. The principal elevations are completely glazed to exploit either the panoramic views or the rugged rockscape. The plan itself is stripped of any excrescence and Souto de Moura's rigour seeps into every aspect, regardless of scale. Even the design of a simple table demands that "you need to have a client, a place, a function and, at times, an engineer". This fastidious absorption in the minutiae, the "stuff" of architecture, has inspired Oporto architecture students to trade bootleg CDs of his construction details within a buoyant black-market economy.
This hefty monograph documents his sizeable output between 1977 and 2002 and comprises a selection of exploded axos, longitudinal sections, rough sketches, playful collages, detailed drawings and artful photographs. The interviews and essays are engaging and it is (curiously) reassuring to learn of Souto de Moura's ongoing frustration at being unable to secure regular commissions, maintain quality and achieve target deadlines. No doubt his struggle against cant, hypocrisy and political expediency will also strike a chord with many Scottish architects?
Souto de Moura's approach defies easy classification but Siza's influence is pervasive. His adherence to Vitruvian values and a belief in comfort and naturalness tends to transcend conventional notions of taste, form and style. He champions the Greek notion of "poiesis" over "poetry" because it emphasises the making rather than merely imagining. It is not so surprising then that the magazine "Blueprint" recently identified Souto de Moura as its hot tip for Architect of the Year. Such an accolade and this substantial publication will certainly consolidate his burgeoning reputation and confirm his ranking alongside Tavora and Siza.
by Mark Cousins
Back to December 2004