Ian Banks looks at roadside public art
20 Dec 2004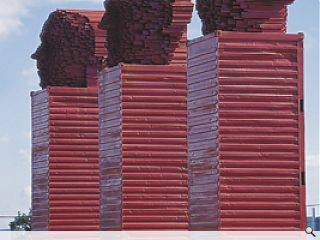 The beat novel "On the Road", by Jack Kerouac, traced his surreal trip along the white lines of some of the most evocative continental highways in existence. For some reason, only an American route seems confident in providing such rich pickings for an art form, with novels, music and road movies being the most consistently used genres. But what of our tamer North West motorways? Will there ever be a place for cult arts to engage with the road-enraged daily life of our M60 Orbital car park, the M6 traffic cone maze at Thelwall, or our death-defying superhighway between supercities, the M62?
The nearest thing to iconic art glimpsed from our motorways and trunk roads at the moment tends to come from engineered past jewels – such as in the brilliant, though criminally neglected, "Pennine Tower Restaurant" of the Lancaster M6 Forton Services1, the Bladerunner-like dystopia seen at Stanlow Oil Refinery after dark on the M56, and in the elegant Runcorn-Widnes Bridge on the A533 approach. All undoubtedly act as navigational markers and symbolise the creative spirit of our gritty Northern enterprise, but all lack cultural reference to our lives today. There are, of course, an increasing number of new public art gateways to be glimpsed from North West approach roads but none have so far got even close in quality to the examples given above or, indeed, are a patch on Gateshead's "Angel of the North". Some art cynics say that artist Anthony Gormley2 has a lot to answer for. They feel he unleashed a dangerous new trend in roadside public art when his rusty archangel appeared before the gathered throng at the Tyneside border on the A1 in 1998. Initial controversy quickly became a political dream, as high art simultaneously turned regional gateway, tourism-marketing brand and regeneration icon. The precedent was so successful and so powerful that it quickly became the dread of many public art officers and agencies worldwide, as copycat creatives working on the design of any major developmental scheme each sought out the "next angel" – only bigger and better and (preferably) less expensive.
Recently, the Office for the Deputy Prime Minister launched something it calls "The Northern Way"3 , which is an attempt to "capitalise on the North's new-found confidence and energy and to speed up the rate of change". Can the Northern culture of inter-regional competitiveness and stereotyping ever allow such a coming-together of "Northernness"? The combined visionaries of North West Development Agency, Yorkshire Forward and One North East certainly think so, and also appear to believe that art has a critical role to play on that journey. As a result, the beginnings of a "Welcome to the North" pan-regional public art programme is currently being co-ordinated by the three regional cultural consortiums. That this programme can also trace its origins back to the success of Gormley's Angel is, of course, not in doubt. However, valuable lessons are being learnt in Northern public art at the moment, and a parallel philosophy of "less is more" is emerging as regeneration bodies increasingly consult with arts professionals and appreciate that there are many levels to exemplar public art practice these days. The point is that, like vehicular design, not all public art has to be big, expensive or designer label to become a truly iconic classic. In similar fashion, we need to be challenged by a cultural equivalent to the concept Smart Car, not the out-of-touch utopia of another Sinclair C5.
There are, of course, road-inspired programmes for public art already underway in the UK. Two notable ones are the fully integrated A13 Artscape,4 devised for the Barking and Dagenham trunk road in 1996, and the M8 Art Project,5 established in 1992 along the Glasgow and Edinburgh motorway. The A13 Artscape involves a rolling programme of crossover art disciplines and was originally co-ordinated by lead artist/architect Tom de Paor, working in conjunction with the Working pArts consultancy. Recent projects include Thomas Heatherwick's roundabouts at Goresbrook. The M8 Art Trust, working with the Arts in Partnership agency, has also commissioned some exceptional work over the years, including Dalziel + Scullion's fantastic sound sculpture for stationary motorists, called "The Horn", at West Lothian and David Mach's "Big Heids" sculptures, situated at the Eurocentral site at Mossend.
Currently, my personal favourite work of motorway car culture can be seen in the brilliantly (but of course illegal) proliferation of guerrilla art in the "Gouranga" signs seen all over Northern motorway bridges and structures. Not the company logo from a bridge maintenance firm or even a marketing ploy from "Grand Theft Auto" makers (referring to the "Gouranga Bonus" – where Hare Krishna monks are run down for extra points) but an altruistically inane crusade of Krishna devotees to spread the word for "Be Happy" amongst the car-driving proletariat. The word has simply to be chanted out loud in order to make everything better and, as life is the ultimate long-distance journey and too much stress en route is bad for us, it has got to be worth the shout.
Ian Banks is a freelance architect and arts consultant and currently also acts on behalf of the Public Art & Architecture unit at Arts Council England NW. The unit is co-funded by stakeholder RIBA NW for 2004/05.
General information on Arts Council England and the NW public art and architecture stakeholder partnership can be viewed on www.artscouncil.org.uk and information portal www.publicartnorthwest.org.uk respectively.
Back to December 2004