New Rural Economy
Date: 29 Mar 2021 - 29 Mar 2021
Time: 4:00 pm 6:00 pm
Town/City: Online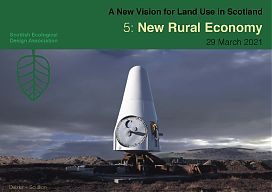 Changing economic patterns: reimagining where we live and work.
The countryside sustains towns and cities through providing clean water, clear air, food and offering a place for physical and mental wellbeing. But what sustains the countryside? Its value to Scotland needs to be appreciated and managed. To do that effectively could mean reversing the long-term decline in rural population. Interventions are needed from local communities, and local and central government to boost the economy in rural Scotland and to encourage young people to remain or return.
What new job opportunities and what infrastructure, including housing, might support such regeneration? Should there be large- scale intervention as was seen in the Land Settlement Act and who is best placed to organise it?
The series is supported by The Pebble Trust, The Open University and Wildland Ltd.
Back to Diary