Bringing the PiGs party back to Glasgow!
Send to friend
* Required fields
Date: 5 Sep 2019 - 5 Sep 2019
Time: 17:00
Town/City: St Judes Glasgow, 190 Bath Street, Glasgow G2 4HG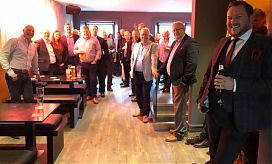 PiGs, or to use its full title, People in Glazing Society, returns to Glasgow in September.
Originally set up in 2004, the networking group caters for the glazing and wider construction industry and is free to attend. Supported by the generosity of its sponsors, all money from PiGs supporters goes behind the bar to get the evening started.
Sarah Ball took over as PiGs organiser in 2014 and now plans four events a year in London, Manchester, Glasgow and Birmingham.
Everyone is kept up to date via PiGs social media including @PeopleInGlazing on Twitter and the 'People in Glazing' page on Facebook.
PiGs is not a company. It does not make a profit and its existence relies solely on the fact that the industry supports it. If you would like to sponsor the Glasgow event, please call Sarah on 07540049655 or email sarah@balls2marketing.com.
Back to Diary