The Pock Mark Award
For the worst planning decision
Ark Hill Wind Farm (Scotland)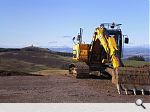 This would be the first wind farm proposal for the Sidlaws,on a much loved heather hillside rich in biodiversity. It has decimated the site with vast tracks crane pads and turbine bases. Habitat for deer,short eared owls, peregrine falcon,grouse to name a few inhabitants.Would be clearly visible from most of Angus. Being built too close to homes 724m,822m,868m, being the closest. Apparently an area cherished by the late Queen Mother and would spoil the residential and recreational amenity of local residents and visitors today.
Nominated by: Jane Brewster
Asda Distribution Warehouse, Earls Road, Grangemouth (Falkirk)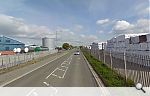 The old ICI Recreational Club lay sandwiched between the Chemical Factory Site and the M9. It was home to a Lawn Bowling Club and Boys' Football Clubs, and provided workers and locals alike with a green space filled with mature trees. In other words a much needed oasis in what is an industrial wasteland. After decades, public access to this site was deemed prohibited after some sort of re-zoning of the Grangemouth Refinery blast-zone. Falkirk Council, in their wisdom, then gave planning permission for a HUGE distribution warehouse to be built on the site.
Private Eye's "Levelling the Playing fields" column commented on the stupidity of this decision. And so to the building itself: concreting over a green space in a town full of gap-sites may have been mitigated somewhat if the structure had been innovative, but what can only be described as a corrugated hanger has been chucked up. The best that can be said is that this is in line with the horrible 1960 's "sheds" that make up the neighbouring chemical site. I'll leave it at that, and not even comment on the lack of road expansion for the dozens of HGVs that will use the facility on a daily basis.
Nominated by Craig J Robertson
Cumbernauld Waves (North Lanarkshire)
Over £1 Million spent to replace grass verges with luminated wave shapes. North Lanarkshire Council must think its reasonable to remove lighting from nearly every pedestrian underpass in Cumbernauld yet somehow afford these installations on already clearly light sections of highway. Common sense isn't very common at NLC!

Nominated by: Stuart
George Square (Glasgow)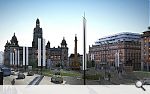 Just when you think it can't get any worse... it does. A scandalous waste of time, money and creativity.
Kirkcaldy Esplanade (Fife)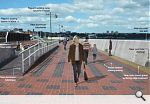 Kirkcaldy's esplanade has scenic views out across Kirkcaldy Bay and the Firth of Forth to the Bass Rock and Lothians. However, look around and you are surrounded by a neglected promenade, cut off from the town centre by a dual-carriageway made redundant long ago by road construction to the north of the town. Fife Council is consulting on plans to rebuild the crumbling sea wall, in the process raising the concrete wall by half a metre.
The dated looking paved walkway is to be left at its current level meaning that for many the wall will be above eye level, restricting views out to sea. The designs fail to embrace the sea, and appear to be without aspiration, creativity or joy, whilst lacking the vision to think about the broader potential of the esplanade; a missed opportunity to help resuscitate a downtrodden town centre and its forgotten waterfront.
M Balfour Dysart
Perth City Hall (Scotland)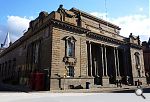 this building has been an absolute nightmare for the town and the council, a complete eyesore which has been empty for the better part of 10 years, the useless council finally decided to knock it down only to have it blocked by historic scotland which will no doubt now result in the building rotting for another 10 years! (p.s the cherubs on top are about the worst thing ive ever seen in my life). Alan Clark
Back to The Carbuncle Awards 2013