The Zit Building Award
For the worst building completed since the last awards

Menie Clubhouse (Aberdeenshire)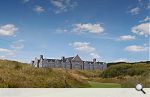 Reason for nomination: OK, so it's not built yet and is headed for planning, which, I suspect, it will get. However, the initial visuals show it to be uninspiring, unimaginative, and a building that strongly supports the perceived dreariness of Aberdeen. Only quality marketing and imagery will sell this building, but architecturally, it is a gross failure on the part of the architect, client, and I expect soon to be planning department.
Nominated by: Disgruntled Designer
New Fraserburgh Leisure Centre (Aberdeenshire)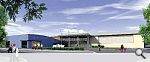 Carbuncle Location: Fraserburgh
Reason for nomination: Currently under construction here us another badly designed leisure centre. With colourful render and a 'trendy' wavy roof this building will look worn out and dated as soon as the builders leave the site!!! Another example of bad northern design...
Nominated by: Stuart
The Big Green Shed (Highlands)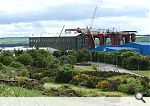 Carbuncle Location: Invergordon Service Base Reason for nomination: The Building is the biggest carbunckle ever tae built in the Ross-Shire area. The building is 30 meters High by 80 metres long and blots out the sunlight to all homes within its shadow as well as what was once a stunning view. So we are nominating for the Carbunckle award as well as the zit award, due to the building being built without any form of consultation or planning permission being granted. This building went ahead due to the believe that it would create 700 + local jobs including for the youngsters of the town and has created none. We believe that this carbunckle/zit award is extremely fitting for what is a disgusting eyesore for young and old alike.
Nominated by: A. Boulice
Back to The Carbuncle Awards 2011