Plook on the Plinth Award
Nominations for the most dismal town in Scotland
All the way from Linlithgow to Glasgow - on the B roads (Glasgow)
Area: the illusion Reason: Take the scenic route along the B roads from Linlithgow to Glasgow. Not so scenic. The names of the towns and villages sound quite picturesque. The places are anything but. Nominated by: The Passion
Alloa (Scotland)
Area: Everything Reason: Everything Nominated by: Marc Campbell
Auchterarder (Highlands)
Area: Caledonian Crescent Reason: Houses that should have been on the 'Footballers Wives' TV show or next to an airport runway. If you need cheering up take a drive down the crescent and wallow in you own good taste. Nominated by: Janet Denholm
Bishopton (Renfrewshire)
Area: Former R.O.F. Buildings Reason: An eyesore in the area. Yet some residents would rather have it this way than look at alternatives such as using land for new housing, amenities etc. I feel they are more interested in the value of their own houses rather than the good of the community Nominated by: AJ MacEachen
Cambuslang (Glasgow)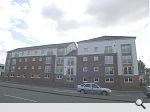 Area: Main Street and flats and houses being built on every available space Reason: I have lived on the outskirts of Cambuslang for most of my life, as have at least 3 generations before me. The main street is full of take-aways shops, pubs and all manner of two bit shops, most of them with ugly frontages (same on you South Lanarkshire Council for allowing this to happen). Not only that but there seems to be a flats now being built on every available space, with no rhyme or reasoning on where they are built or how they fit into the surrounding area (Again, same on you South Lanarkshire Council). Are children not allowed to play anymore? Doesn\'t anyone realise that the roads in Cambuslang and surrounding areas cannot maintain this influx of people. And don\'t get me started on what was our beautiful park! (Again, what the heck are we paying our Council Tax for!!!!) I have attached a photo which is typical of the faceless type of housing being built. Nominated by: Elaine Smith
Carnwath (Lanarkshire)
Area: The Main Street Reason: Dismal, like going back in time, to a time that is better forgotten. The best thing that could be done is build the Carnwath bypass, and anyone who had to travel in that direction would not need to go through Carnwath, and it could sit there contentedly in an age long gone by. Nominated by: Margaret
Castlemilk (Glasgow)
Area: All of it! Reason: The whole area is grey, dull and uninteresting. It inspires no positive feels within it's residents, (unless looking forward to LEAVING is a positive feeling?) At the top of Carmunnock hill there is a new housing estate with lots of modern houses. The problem is that these have been built so cheaply they will literally fall apart within 3-4 years! There is no community spirit within the area (Can Buckfast be counted as a spirit?!), it has been over-run by povery stricken alcoholics / junkies and neds. There is a lack of shops, parks (the graveyard which is used as a football pitch), and the area is generally boring to live in. I'm not surprised so many of the younger generations binge drink, fight or take drugs as a way of escaping. A place I certainly wouldn't walk through during the day, let alone after dark! Nominated by: Littlerich
Coatbridge (Lanarkshire)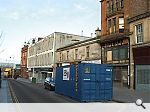 Area: Car Park and Asda Building in the centre of town
Reason: This is the most miserable and dingey place in Scotland that I can possibly think of. The whole town is dreadful to be honest, but this area is especially depressing. It's a big concrete block of a place, and while money has been spent to try to make the ASDA building slightly more attractive on the eye...but that's been a complete failure as well. Horrid.
Nominated by: Town Cryer
Coatbridge (Whiflet especially) is one of the worst places i've had the misfortune to work in! If a towns redeeming factor is that it has a retail park, then you know its in a sorry state. Someone on the news mentioned recently that Drumpellier Park was a good thing about Coatbridge, yeah a good place to go to escape Coatbridge (for a short while at least)!! Guy fae the 'Nauld It's easy to go to any town in any part of the UK and find an ugly picture to post on a website. Coatbridge has lots going for it, move 50 yards in front of the picture posted or turn the camera around 180 degrees and you will find a prettier picture than this! Walk a quarter of a mile across and you will find the brilliant award winning Heritage Park. A further mile away takes you to Drumpellier Lochs. People travel from all over Lanarkshire and beyond for family days out in Coatbridge. The person who took the picture quite clearly doesn't know anything about the town. Ally,
North Lanarkshire Libraries; the Time Capsule; several well kept parks; shopmobility; and wonderful people make Coatbridge a great place to live. vc coatbridge
What terrible place coatbridge is i grew up there and am so glad to have moved away it has nothing going for it.I was back recently and nothing has changed from when i left.A dull depressing dreary place. KM
Coatbridge is not such a bad place to live, it boasts better facilities than all of the surrounding towns, and I can say I enjoy living there! As with anything there's always room for improvement and I'm afraid that the snapper was being kind with his image, less than a few hundred yards away is some of whats left of the Monklands canal, as this runs so close to the town centre you'd expect the council to maintain it, and they did for a time...however..... as you can see from my image its a trolley park. There was a lot of money spent improving the pavements around the town but there are so many areas which could have benefited from some additional work. Summelee Heritage park is superb, as is Drumpellier and the other remaining parts of the Monkland canal. ASDA andn the bridge that cross the main road could both do with a serious facelift. Paul Hewson
This is a prime example of where agencies perpetuating to act on behalf of the common citizen pass planning applications without looking at the bigger picture. This is why so many people shake their heads at Scottish Enterprise which does nothing to support small local businesses. What ever happened to 'joined up thinking, economic sustainability and community', the so called buzzwords of the new millenia. participation. If people are a product of their environment then lets change coatbridge before we see another generation of lost causes. tariq aslam It has the potential to one of this country`s next city but is doing nothing to improve it`s infrastructure. For a town that has SIX train stations, not one gives you a link to the nations capital! Chris McGeough
Chippies, kebab shops, (bad) pubs, bookies, pound shops, fast food outlets, traffic nightmare, North Lanarkshire Council, time capsule, the condition of the car park at Tesco, Tesco, bingo halls, the smell of fags if you roll your window down on the way through, Hue & Cry, Circus visits the town - although you wouldn't notice, I could go on. craigmcm The whole place is depressing. It contains the worst Asda store in the country, The whole lot needs to be bulldozed and rebuilt. The vast collection of discarded beer cans and empty Buckfast bottles where the Monkland canal used to be has to be seen to be believed. Gordy
The ASDA walkway and surrounding area is an absolute disgrace. The whole building is dingy, brown and hasn't changed in 30 years. It brings down the entire main street. I've lived in this town my whole life and the past 35 years have been nothing but a disappointment in terms of regeneration. New buildings like the Quadrant haven't made a bit of difference. Years ago the local paper coined the phrase "the doughnut town with no centre" because the town centre was so devoid of shops. Nowadays, if it isn't a charity or pound shop it doesn't last. The ASDA building should never have been built right in the centre of town. From the day it opened the town has gone downhill. Helen
I've been in the building trade for 50 years and why the main street hasn't been torn down and rebuilt from scratch is beyond me. It's just disgraceful. The main street is poorly tended, the parks aren't cleaned, the Dunbeth and Whifflet flats look awful. Buildings like the old labour exchange and public baths have been left to god knows what (except from the public) and the old Coia building has been derelict from around the 1950s. The police station and bus stop area round the back of ASDA is depressing and dull. Albion Rovers football club grounds aren't much better! The old RB Tennent's works is still a derelict wasteground. Shops close and lie derelict for ages, or become firework vendors around about October! The canal pond has become a waste pit form Bucky bottles and no amount of pedestrian improvements and revamps will change the fact that the council has let the town down. John
Quite possibly the worst supermarket building in the UK. Dingy, brown, poorly maintained and the main building, car park area and main street offshots completely dominate the town. Depressing, dull and in drastic need of replacement. Angela awful railway bridges, empty shops, derelict buildings, high-rise flats, asda's miserable looking bridge, the list is endless. but worst of all the town is full of councillors who can't accept the fact that their town is a total disgrace and try to make it sound great. debbie faulkner Depressing town, filled with charity shops and broken Buckfast bottles. Yvonne
There are worse places to live I suppose, but the main street has seen better days Sharon Dreary, dingy, empty Buckfast bottles everywhere, secterianist activities and too much concrete. Matti Glover the place has few green places and is getting too many houses and roads built over it
Nominated by: peter
No good! Jane So we don't have to stare at green algae as the sun beats down on this lovely feature with a trimming of local rubbish of the outskirts. Argh!
Nominated by: Patrick McBride
Reason: Dingy looking main street and poor town planning
Nominated by: Lizzy
Cumnock (Ayrshire)
Area: Shopping centres, bus station, health centre Reason: See Cummnock and weep. Terrible developments such as the shopping centre, a few short steps from the old town centre have ripped the soul out of this place. Even though the shopping centre is some years old surely there is no excuse for not sorting it out now? It seems geared to bringing the worst of the inner city into a rural market town. The giant car parks near the health centre and bus station also help add the effect that the old town centre is simply a round-about. This town could be a real gem. It is time East Ayrshire were embarrassed into sorting it out. Nominated by: Anon I agree, this place is a dump. Truly dismal. Whilst I think the New Cumnock nomination is a bit unkind - that town has failed through no fault of its own - Cumnock itself has real potential. Its problems are down to bad planning and incompetence, Tony T I totally agree, Cumnock has been left to rot for too long!! Angry in Cumnock
Dunoon (Argyll)
Area: Queen's Hall and Breakwater Reason: Whilst it may seem to some as a pretty Victorian seaside town, and yes parts of it are. The approach to Dunoon leaves a lot to be desired and is an example of planning and political madness. The 1960's Queen's Hall Building is dilapidated and has been allowed to wither with badly produced signage hanging limply. The waterfront is a mess from Argyle Street along to John Street with an ill-conceived swimming pool, derelict land and untidy rear's of the main thoroughfare. If none of this wasn't bad enough, the jewel in Dunoon's crown, one of the last seaside Victorian piers is being allowed to decay. Sorry, how silly of me, they spent a lot of money building a new breakwater and linkspan to protect the pier - the fact that no ferries, boats, ships or even seagulls are using it is, of course, irrelevant! Nominated by: Anon If Dunoon is as horrendous as this person describes it, then there must be a lot of places which are worse. This speaks for itself, by the number of families who are choosing to relocate to Dunoon.It is most definitely not as bad as this person describes.
East end (Glasgow)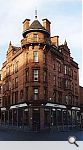 Area: Parkhead cross Reason: Have you ever stood still in glasgow and looked up - we have some of the most beautiful building and architecture, shame it is above a chippy, off license, spar, another chippy, chinese, bookmakers....you get my point. Glasgow's parkhead cross has such beautiful buildings it's just a shame that there is not one close door that isn't grafitted to within an inch of it's life. Ned's have no appreciation! Nominated by: ANON I would have to agree. I recently took out a book called glasgow old and new and the change is horrendous. Glasgow is well know for having some of the best victorian arcitechture but they cant help but ruin it with their obselete and chep tower blocks and tacky shops. How embarrasing for Glasgow. Craig
Fort William (Highlands)
Area: sea front Reason: it should be really senic but has been badly planned and executed. it could be fantastic, the Rivera of the north, but no. Costa del Nupty instead Nominated by: Patrick
Girvan (Argyll)
Area: Harbour Reason: Girvan was once a great wee traditional fishing port with a friendly aspect. Sadly the place has been left to rot like the carcass of a dead fish! Nominated by: Trawler
Glasgow (Glasgow)
Area: Gallowgate Reason: the council seems to be trying to reinvent the area as an up-and-coming place, however as long as it remains the hang-out of every jakey, ned, drug dealer and prostitute in Glasgow then all the plans are for nowt! Nominated by: Stromboli I think the same aswell, the Gallowgate is a total disaster Me. . . . Area: Royston Road Reason: The road itself is so dated, with the derelict house onto of the shops, all that is in site is a large patch of grass which is full of empty bottles of drink from the know alkies that surround the place. . . They are developing brand new back and front house just up the hill form that and that part is nice, hopefully they will start work on the shops/ house surrounding the road Nominated by: Izacc
Granton Harbour & Leith Docks (Edinburgh)
Area: Hard to say Reason: This area was promoted as the modern equivalent to the New Town - in fact it has exposed how completely toothless and headless the planning machine is in Scotland. With the exception of the Reiach and Hall and Elder and Cannon's Upper Strand housing scheme (which is good) the area is awash with disappointing buildings - an given that its a wasteland - that is quite an achievement. Nominated by: Claire
Irvine (Ayrshire)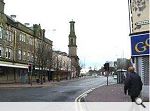 Area: town centre Reason: poor planning,ugly shopping centre, money grabbing landlords mean vacant shops, inactive council etc etc etc Nominated by: sfg A terrible, souless town centre with a horrendous crumbling shopping centre found attractive only by the pigeons who frequent it. Made worse by an innactive Council and half empty shops. Alex B
Kilmarnock (Ayrshire)
Area: The wasteland between John Finnie street and The Foregate Reason: It is a failed attempt at regeneration that has left a whole street of empty shop units to let and a huge chunk of undeveloped wasteland Nominated by: Rhi S
Livingston (Edinburgh)
Area: Retail centres Reason: Planning and design by apathy with a side order of unimaginative vision. The people are not considered at all in the Livingston masterplan. A town ruled by the car with no thought to the use of public spaces outside the core shopping hours. Where's the Piazza with café's bars and restaurants? Where is the public performance space and public art? Where is the street you can walk along and enjoy the sunshine whilst you shop? Where's the imaginative use of external lighting to make the spaces useable all year round. 10/10 for making money from travelling shoppers 0/10 for making the experience worthwhile. A fantastic oppertunity to make the best town centre in the central belt outwith Edinbburgh and Glasgow wasted. Nominated by: Alex McDonald
Motherwell (Lanarkshire)
Area: The 1970s pedestrianised centre Reason: Failing dismally after the Asda relocation,the only thing flourishing is the chewing gum on the paviours! Are there any buildings of architectural interest left in Motherwell? Nominated by: juliet Concrete Monstrosity that North Lanarkshire wastes money on. Boab
New Cumnock (Ayrshire)
Area: Town Centre Reason: Nightmare of a place. I know there are economic issues there - but for heavens sake the setting is great and all that seems lacking is ambition on the part of local planners Nominated by: gordon
Newton Mearns (Glasgow)
Area: Soul Less Reason: Possibly the wealthiest per head in Scotland, but rows and rows of little boxes. No strategic planning, no quality architecture, and worst of all no pubs. Nominated by: Andy Wilson
Paisley (Glasgow)
Area: Town Centre Reason: The planners responsible for modern day Paisley should be shot. There is potentially a very nice town trying to get out from under their lousy decisions. But as it is, it looks like somebody has dropped Paisley - and all the nice bits have been scattered asunder. But if what went during the 60s was not bad enough - with projects that saw the Cart being paved over for a shopping centre - today the town has not learnt from past mistakes. The refurbishment of a great old mill over looking the river for example, have been ruined with the development of a superstore right next door. How depressing. Give this award to Paisley. Embarrass our civic leaders into sorting this disgraceful mess out. Nominated by: Buddy The irony is that the Labour Council responsible for the state Paisley is in were voted out of office at the last election and are now mouthing off about how the new Council aren't acting to sort out the mess - despite the fact that they've been in office 6 months and are trying to reverse a decline that started 20 years ago. HonkieB agreed. I think it was short sighted of them to go to all that effort of putting down new paving and the outdoors shower at county square, when the retail areas surrounding it are shabby, and looking at the end of Paisley at the end of the High St. Why haven't they started looking at ways to improve that ? The buildings and area there, look ill and maybe past the point of rescuscitaton. j campbell many beautiful buildings - coats memorial, museum, library, being obscured by modern buildings which are now emptying because it seems no businesses want to be in this town. Mismanagement and lack of vision. geraldine payne Over use of concrete in building the renfrewshire HQ many years ago, the mish mash of mis planning on the High Street - uni building, the shops themselves, Paisley Centre, etc. obscuring the Coates Memorial Church, library, museum, etc. No thought of how to incorporate properly, the older buildings with the new, and no ideas seem to be forthcoming in stopping traditional trades - a framer - going out of business to an internet cafe which isn't needed. Powers that Be seem to be stuck in a timewarp as Internet Cafes are a thing of the past and never last. Eddie McClaren What was and could be again a great town with some beautiful buildings has been ruined with extremely poor council planning that first pedenstrianised most of the town making it feel earily quiet with little parking in the areas you can drive into and no incentives to visit and then lets the likes of Braehead and Silverburn shopping centres be built next to the town which is just about the final nail in the coffin of Paisley. Nominated by: J. Gordon Paisley town centre is a living tribute to East Germany. The "bus depot" is a miserable row of stances under a parking garage where your only visual diversion is watching the netting under the railway bridge trapping thousands of pigeon feathers and dead pigeons. There is some sort of local ordinance against bright, modern signage and fresh coats of paint, and some businesses are quite happy to operate with huge chunks of masonry missing from their storefronts or no signs at all. The major local car park is an grassy concrete wasteland between decrepit tenements. The main street is a tribute to dodgy pound shops and "everything must go" sales, and it all shuts down like a ghost town at 4:59 PM. As for the old boys' club AKA the town planners, they're so self-absorbed that they couldn't attract a single operation to fill the Arnotts department store space which has been vacant for four years, nor have they been able to prevent the shutdown of half of the Paisley Centre. Rather than redeveloping the town, they prefer to whinge about everything being Braehead's fault. Someone needs to tell these arrogant power brokers that that's how business works, and if they knew anything about being competitive rather than whinging and blaming and then demanding their handout of public "regeneration" funds, Paisley wouldn't be in the state it is today. Can't say Possibly the wort place ever junkies whores neds and looks like someone just thought lets dump this here Wouldnt you like to know Reason: the whole area is very bleak and dismal. Nominated by: alan Used to be vibrant with variety of shops. Now very depressing. No individual character. Chain stores. Agressive beggars. Jack Mckenna Dull, dowdy and rundown. John everything Linda McWhinnie Its a total mess and Love St is a Dump Inverclyde Never seen such a run down place in Scotland so badly laid out Sean Remember being excited about shopping in Paisley when I was young - not any more. No shops, horrible buildings, neds galore, grafitti, litter... Jacqui Massie it is horrible with little shopping. Some of the buildings the old ones are needing some serious attention sandie mackay its horrible sheila mackay serious lack of shopping facilities and any modernisation has been done on the cheap Joan.Mc Too awful for words Nominated by: jono The ring road is a disgrace and is embarresssing as the buildings need refurbished chrissi Failure of public sector to deal with gap sites and areas that encourage anti social behaviour. Access to shopping is poor also falling down, very depressing Caroline Fraser streets need cleaned - very messy Nominated by: Sandra Blair A very depressing place - bleak and miserable Ciaran The traffic managment system and signage takes visitors round in circles. Most unwelcoming. clearly they don't like visitors and the secrets of how to navigate round the town are restricted to residents only. Anthony Blair Shopping mal is a huge white elephant and even on a saturday afternoon the place is a ghost town!! No atmosphere. Donnie Gaull The town should be making the most of all the new people that are moving to the area instead it is like a ghost town. Anon No bus station, no heart, dirty craigilie Run down ! Lachlan.
Partick (Glasgow)
Area: Dumbarton Road Reason: Used to be a vibrant place full of energy, life, and people drawn from all over mixing together to give Partick a truly unique and Glaswegian identity. People used to go shopping here. Now they just take their old junk and dump it on some unsuspecting shop run by kindly but weary volunteers to sell for a couple of pounds. Probably because they feel so guilty just looking at thier surroundings. Full of run-down old shops which have seen better days and more money and literally filled with charity shops and plastic-things-you-can't-use-twice for under a pound shops with their shabby fronts and hoardings. Meanwhile, they continue to plough millions into the world's newest ghost town just metres away at Glasgow Harbour with it's very attractive "no amenities, no facilities, no residents yet" policy. About the only businesses that are doing well in the area are the bars and off-sales which have an ever increasing customer base. Not surprising really, it's enough to drive anyone to drink. Aye but here's the rub: No-one but your average millionaire could afford a house there these days. Maybe they're hoping all the working class and original residents will move out before they spend any money on anything else but overpriced accommodation. Nominated by: Fitzer
Pollok (Glasgow)
Area: Silverburn shopping centre Reason: It's weird looking and lacks soul Nominated by: Jenny Reason: A completely unnecessary glass and concrete sprawl,with no original retailer offer. Creating unnecessary traffic, and looks like it was lifted from Florida and dumped on Glasgow, truly awful. Nominated by: Andy Wilson
Ruchill (Glasgow)
Area: Ruchill Area Reason: Over the last couple of years we have seen regeneration within this area. However, I feel this place will never be somewhere that I would choose to live no matter how good this area will look on completion. The people who occupied this area have not gone to other areas but have simply been re-houses in to the new built homes therefore I think that the place will still be an area of poverty i.e. full of junkies, lots of neds and crime. I feel sorry for anyone who buys a property especially the price they will pay to end up living in a s**t tip in a few years time. Nominated by: Ceecee
Wishaw (Lanarkshire)
Area: Lack of any positive changes Reason: For a long time Wishaw Town Centre has been slowly "dying". Despite this, and with North Lanarkshire Council having an "Action Plan" only small interventions have taken place and respresent only the surface of the problems. Shop units are constantly changing from one thing to another as small businesses do not have a chance of making a go of it because people are put off by the lack of decent shops and the dingy look of the place. It is time for Wishaw to reinvent itself! But it need some real help to get there! The new town centre development at Ravenscraig will undoubtedly bring positive changes to the whole area but please do not forget about Wishaw, it has always been the poor neighbour of Motherwell and things will only get worse. Nominated by: Can't Say Now you know how the residents of Cumbernauld feel. And the ravenscraig 'New Town' will not help Wishaw, instead it will turn it into a ghost town. People will shop in the new shopping centre, then they'll prefer to live there. You're only benefit maybe jobs - if they put in the right transport infrastructure!! Then again this is NLC!!!! thunder It`s not called Pishy Wishy for nothing ! Rod Wishaw must be the worst town in scotland and needs to be flattened and rebuilt.If you go out at the weekend at pub closing time you would think you had wandered onto the film set of "The night of the living dead". long-time suffering resident. Its not too late to save Wishaw, hopefully it will be put into the shortlist then maybe someone will sit up and listen. I lived in Wishaw for several years (on the main st) and while the place is a tip the people are friendly and upbeat, they deserve better! Lee from long-time suffering resident, Wishaw must be the most depressing place to live in and as for lees comments about the people being friendly(lol)he needs to get out more often. long-time suffering resident I have been a resident of wishaw for most of my life ,what I find really disturbing is when your walking up wishaw main street , crossing the road at kenilworth avenue is the amount of drug users waiting outside the lloyds chemist to go in for their methodone it really is quite frightening is there no other way of entering the chemist so as not to make people walking up or down the street feel so intimidated ? concerned gran A good nomination. A dead town centre with only charity shops, hairdressers and cafes thriving. The new Tesco will kill any small shops left, and the rerouting of the main street toensure that the traffic goes past the said Tesco will be the coup de grace. A dreary failed town. megrim full of charity shops and cafes and not much else v Jack McConnell should be ashamed. G Wishaw is in dire need of a plan. I lived there for 23 years before moving with work to England, on a recent visit I spent all of 10 minutes in the town centre, and that was only to get a sandwich. There are no decent shops, no amenities and no future. Chris I agree with most of the comments.Wishaw is in dire need of new investments, with the new Ravenscraig plans Wishaw will be ignored again.Shame on North Lanarkshire DC IT should be top of the carbuncles grimlady Home town of former first minister Jack McConnell but you would have difficulty finding his office among the boarded up shops and take aways. However it is just around the corner from the new 24hour Tesco which has been allowed to close local roads 'to improve traffic flow' , not suck the last of any life out of what is left of the dismal main street. Wishaw resident. the council are putting all their eggs in the one basket.To subsidie the Ravenscraig. You cant turn a corner in Wishaw or surrounds without seeing the Council selling land,mostly former greenbelt to fill their empty coffers alastair scott. Total neglected by the council for the last 30 years, and constant road works which blight the town and deter visitors. it is being made worse by a one way system with no other reason than to force all the traffic to drive by the supremely huge and ugly new Tesco, a decision which will destroy what's left of local shops and complete the destruction of the town. KB A whole main street of boarded up and closed down pubs and shops, with even the recently gerrybuilt built cinema and adjacent Quicksave being boarded up and shut. The Anvil Flats with the shut down Harvie's Pub and the council offices are particularly depressing. An unfortunate resident. Wishaw used to be full of specialist shops from butchers and bakers to bespoke jewlers and designer clothes but even now the few remaining quality shops are struggling against poor local government and supermarkets who are only interested in profit. Wishaw needs to be taken from the hands of management heavy NLC and privatised NOW. AuldNick
Yoker (Glasgow)
Area: Dumbarton Road/Glasgow Road Reason: I drive along this way to go to Clydebank and I absolutely detest it, there seems to be some generation going on along side the clyde but across the other side of the road you still have old outdated buildings, a just can't see this area getting any better. Nominated by: Ceecee
Back to The Carbuncle Awards 2007