GEZE

GEZE is a world leader in manual and automatic door control technology, and window control systems for natural ventilation and smoke and heat extraction. We are the only company offering both door and window control.
We are the first manufacturer to offer a complete series of automatic door operators with an automatic drive height of just 7cm. The Slimdrive range is available in swing, sliding, including telescopic and curved, and folding options. Our extensive product range, comprehensive project experience and technical support means that we are the perfect partner for any construction project.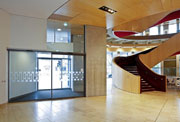 Our ISO 9001 certification marks out the company's quality assurance and quality management, as does our ISO 14001 certificate for effective environmental management, which demonstrates our continued commitment in providing solutions focused on building sustainability and occupant accessibility and wellbeing.
Founded in Germany in 1863, the company invests millions in research, development and manufacture of innovative solutions, and sets the global standard for advanced door and window control technology.
GEZE UK are members of the Royal Institute of British Architects' CPD Providers Network and offer 5 RIBA approved CPD presentations: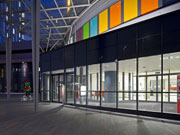 EN 16005 Safeguarding Pedestrians from Accidents at Power Operated Doorsets

Designing Effective Natural Heat and Smoke Ventilation

Removing Barriers to Access

Specifying, Installing and Maintaining Ironmongery for Fire Doors
Glass Door Assemblies – Selection and Specification

Our team of experts, based in Glasgow is dedicated to quality specification throughout Scotland offering bespoke design and manufacture and have extensive experience:
The Queen Elizabeth University Hospital, Glasgow
Theatre Royal Glasgow
Bannockburn Visitor Centre
Company details
www.geze.co.uk
GEZE Scotland
Block 16, Units 4 & 5
Cambuslang Investment Park
Clydesmill Place
Cambuslang
G32 8RF
T: 0845 030 9024
E:
info.uk@geze.com