Dalmore Distillery expands again with a wire-mesh still house
May 16 2022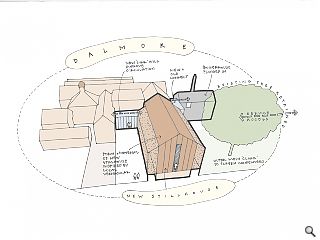 The Dalmore Distillery with ThreeSixty Architecture has brought forward its latest expansion plans centred on a wire mesh-clad still house, boiler room and circulation link.
Designed to permit a doubling of production capacity the expansion of the Alness site will build on its Highland vernacular to establish a 'village' form defined by strong gables and pitched roofs. The key to this approach will be managing views of pipework and condensers by wrapping services in a nested cladding layer of wire mesh.
In a concept statement, the architects wrote: "... the concept for the building is to create a series of layers to the structure which presents a functional inner-shell wrapped in a beautiful cloak.
"This outer skin of the building is proposed as perforated metal mesh that will serve to manage the visual impact of the building, ensure the correct flow of air around the condensers and be designed to integrate circulation, gutters, and the infrastructure required to maintain the production equipment."
Bookending the distillery as seen from the Cromarty Firth the Still House will employ a feature stained glass window to flood the interior with coloured light.
A landscaping strategy is to be overseen by the Paul Hogarth Company will introduce new coastal habitats in anticipation of future phases of expansion. This follows completion of a visitor centre in 2011.
Back to May 2022