Balkrishna Doshi to be awarded the 2022 Royal Gold Medal for Architecture
December 9 2021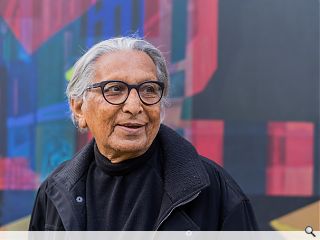 Renowned Indian architect Balkrishna Doshi has been recognised for his contribution to architecture as the recipient of the 2022 Royal Gold Medal for Architecture.
Personally approved by her Majesty The Queen the accolade is bestowed each year to a person or group who have directly advanced the profession through a lifetime's work.
With a 70-year career across the subcontinent under his belt Doshi has delivered over 100 buildings that have collectively served to advance architecture in the region by combining modernist principles with the local vernacular informed by history, climate, culture and craft.
Born in 1927 in Pune, India, to a family of furniture makers Doshi served under his mentor Le Corbusier for four years as senior designer (1951-54) in Paris before returning to India to supervise projects in Ahmedebad, including Louis Khan's Indian Institute of Management.
Doshi went on to found his own practice, Vastushipla in 1956 with two architects which has grown to 60 employees today with key projects including Tagore Hall & Memorial Theatre (1967), a 700 seat Brutalist auditorium in Ahmedabad and Amdavad ni Gufa (1994), a cave-like art gallery that exhibits the work of artist Maqbool Fida Husain.
Speaking after being informed of his win Doshi said: "The news of this award brought back memories of my time working with Le Corbusier in 1953 when he had just received the news of getting the Royal Gold Medal. I vividly recollect his excitement to receive this honour from Her Majesty. He said to me metaphorically, 'I wonder how big and heavy this medal will be.' Today, six decades later I feel truly overwhelmed to be bestowed with the same award as my guru, Le Corbusier - honouring my six decades of practice."
RIBA president Simon Allford added: "In the twentieth century, when technology facilitated many architects to build independently of local climate and tradition, Balkrishna remained closely connected with his hinterland: its climate, technologies new and old and crafts."
Sir David Adjaye OBE was the recipient of the 2021 Royal Gold Medal for Architecture.
Back to December 2021