Community hub planned for former Coupar Angus health centre
October 26 2021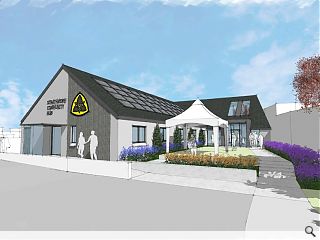 Coupar Angus is to receive a new community hub under plans to transform an existing health centre into a hub for social activities and community groups.
Overseen by Inglis & Carr Architects will see vital repairs carried out to the current timber structure, which will be conducted in tandem with a small entrance extension to enhance its kerb appeal from Trades Lane and obscure a characterless gable.
Rising on an existing car park the extension will match the existing building which is to be entirely re-rendered, complete with new windows and photovoltaic roof panels.
Outlining the scope of the planned work the architects wrote: "The intention is to enable start-up craft groups, as an example, to get going with minimal cost thereby encouraging inter-community activities. There will also be an opportunity to rent out spaces for meetings, seminars and the larger area for conference and cinema space.
"Interest has been shown by various community organisations to hold craft exhibitions, host artisans for the Perth Open Studios annual event and to use some of the facilities for daytime respite care for dementia sufferers."
Access ramps, vehicle charging points and landscaping are included in the package of works for the Strathmore Community Hub.
Back to October 2021