Pop-up architecture, carbon & environment platform launched
|
Send to friend
October 13 2021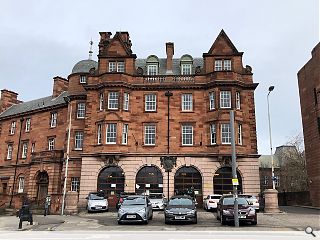 A pop-up architecture and carbon platform has launched in Edinburgh to promote and encourage further carbon reduction in the built environment.
SpACE - the Space for Architecture + Carbon + Environment is timed to coincide with COP26 next month to capitalise on media attention and is housed within the Old Fire House at Lauriston Place, now part of Edinburgh College of Art. The temporary venue will convey the sense of urgency that is necessary if we are to have any hope of reaching ambitious zero-carbon targets.
Uniting diverse audiences from community groups, schools and planners to industry, architects and heritage bodies the public forum will channel mounting public clamour for action by documenting what a successful climate strategy looks like - as well as the practical steps needed to get there.
Rab Bennetts, architect and founder of Bennetts Associates and chair of SpACE told Urban Realm: "People are talking a lot about what's already been achieved because a lot of easy carbon reductions were done by decarbonising the grid and getting off coal and for that individuals didn't need to do very much. The next step is going to be far more difficult, getting the public behind wide-scale changes of all kinds down to the food they eat, that's a bit beyond the scope of this exhibition but the fact is it's going to be a hell of a job getting people to change to that degree.
"The case we're making is if you can reduce the demand for energy by doing something to your building stock, even if it's not 100% successful, you've got to start."
Key goals of the exhibition will be to promote design and construction case studies illustrating how net-zero carbon can be attained in existing and new build stock. A daily events programme will also see a variety of presentations and workshops held in partnership with organisations such as Historic Environment Scotland and the Edinburgh World Heritage Trust.
These activities will be complemented by the SpACE website which will share links to wider sources of information and technical help.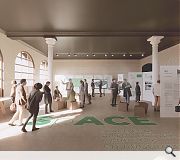 The Edwardian hall of the former Fire House will lead the way in sustainable re-use
Back to October 2021