Wilson's Weekly Wrap: Who MAKE's wins, Adding value to academia & Awards, awards
October 13 2008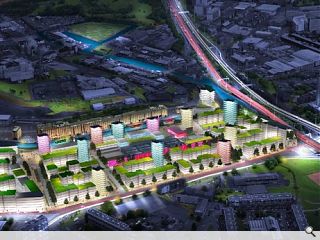 Weekly Wrap 10.10.08
Who MAKE's wins
There is now no question that the current storm in the financial sector has thrashed across large parts of the UK's architectural profession like a silent tsunami, sweeping away jobs that had previously seemed solid and secure. Aside from the obvious frailties of the housing market, large numbers of commercial projects have either stalled, died or are in the process of expiring as more and more funding institutions are forced onto the rocks. Only those engaged in public sector work seem immune for the moment to the winds of redundancy. Difficult times demand courage, leadership and action so the lack of comforting sounds from the profession's institutions - whilst entirely characteristic - is deeply dispiriting. No one should be under the illusion that imaginative rescue plans are being prepared in the command centres of Portland Place or Rutland Square and every one of their members will have to fend for him- or herself in the scramble for the lifeboats.
Not all is doom, gloom and nautical metaphors, however – some practices appear to be weathering the hostile elements extremely well, with MAKE in particular seeming to have extraordinary reserves of buoyancy. For a relatively new practice (four years or so) the figures in their recently published accounts make remarkable reading – a rise in turnover from 2006 to 2007 of 75% from £10.8m to £17.8m and pre-tax profits up 65% from £1.1m to £1.8m. Most remarkable of all is the increase in salary of MAKE's highest paid director – presumed to be Ken Shuttleworth, the firm's founder – from £208k in 2006 to £1.06m in 2007 – a 500% increment and one that reflects the realisation of the practice's first biggish projects in London and Nottingham. The figure from the accounts that should see queues of newly available architects forming outside the company's Edinburgh office in Palmerston Place, however, is the rise in the average salary of staff (including directors) – up from £63,780 in 2006 to £89,748 in 2007. Long may such spectacular growth continue to buck the trend - there could even be a lucrative additional income stream from providing CPD seminars on how other practices might learn from such astute business management.
Adding value to Academia
Other positive news this past week has been the announcement from RGU's Scott Sutherland School of Architecture in Aberdeen that Douglas Forrest has been made an Honorary Professor in recognition of his work on historic buildings. The School's head, David McClean, puts the appointment in context: "the abundance of notable historic architecture, regionally and nationally, coupled with an increasing demand for the creative re-use of existing buildings driven by the wider sustainability agenda, underscore the importance of Douglas' expertise to the development of tomorrow's architects and construction professionals". This, together with the parallel appointment of Robert Leslie, Business Development Director of Robertson Construction Eastern Ltd as an Honorary Professor, shows a commendable intention on the part of the School to avail itself of strong local input, and perhaps even a grander plan to position itself as something other than a provincial staging post.
Viewed from the outside, Scott Sutherland is quietly accruing an interesting range of strengths – together with the two new appointments, it recently appointed Alan Dunlop as a Visiting Professor and already has Gokay Deveci as a full-time one. Unlike other schools where such appointments can be substantially titular and designed to raise awareness of the department's existence through celebrity association, these all seem designed to develop the in-house capacity necessary to secure increased government funding. All university departments struggle to increase the research ratings upon which such financial support is dependent, but architecture schools struggle more than most since few of them carry out anything that might even loosely be described as recognisable academic research. Could it be that up there in furry boot city some new, enlightened thinking about architectural education in the 21st century is setting in, shifting the emphasis of staff time away from the usual labour intensive and financially unproductive obsession with design tutorials towards more fruitful R&D collaborations with industry? The proof will be in the pudding, but in the meantime, congratulations to Douglas Forrest for this well-deserved recognition of his endeavours in what has always been a less fashionable area of architecture.
Awards, awards….
With the shortlist now announced for this year's Andrew Doolan' Best Building in Scotland Award, it is gratifying to see the range, diversity and quietly understated quality on offer. Commercial, culture, education, housing, leisure and restoration projects are all there, whilst notably absent are representations from the world of PFI/PPP (whether in education, healthcare or other forms of 'public' building) as well any so-called 'iconic' projects. This can only be a good thing: the profession needs to make clear in as many ways as possible to the public, press and politicians that real design quality can make a difference to the country's economy and culture and that this doesn't generally manifest itself when the architectural dimension of new projects is novated to the interests of mammon.
Bewilderingly, the AJ has referred to the list as 'eclectic', but it is hardly any more so than the shortlist for the Stirling Prize which, after all, starts out in much the same way, i.e. as an invitation to architects to submit entries. In the case of the Stirling, the invite is to the RIBA's Regional Awards, with the winners in each area put forward for RIBA National Awards. The winners of the latter provide the longlist of projects from which the final five are selected for Stirling Prize consideration. Readers of previous Wraps will understand that the judging of the RIBA Regional and National Awards is entirely equitable and therefore immune to any accusations of eclecticism, elitism or edifice-ism. The AJ of course sponsors the Stirling Prize and the final selection is therefore dependably, quintessentially British: entirely honourable and absolutely above the kind of machinations that are all too often discernible in the kind of award schemes that operate in less well developed parts of the world.
Yet more awards
Oops, silly me – I forgot to mention the Prime Minister's Better Public Building Award, the 2008 winner of which was announced last week. In many ways this is a much more fascinating and unpredictable scheme than the RIBA or the Stirling Awards, given that it even redefines what we mean when we call something a 'building'. The judges apparently "look for high-quality design – essential for good public building (sic) - but also efficient procurement; economic and social value; good team work between client, designer and contractor; sound financial management; whole life value for money and sustainability". Now, I don't want to be picky here, but it seems a bit premature to judge the last two criteria when the short-listed projects have only just been completed.
That said, in among the flood prevention schemes and road widening projects that populated the final list was the Royal Alexandra Children's Hospital in Brighton, a fine enough scheme if a little in the standard BDP mould (curved metal roof, curved corners, et al), but not one I would suggest that would appear on anyone else's list of most outstanding new architecture in the UK. But then, the sharp-eyed amongst you will already have spotted that the word architecture doesn't actually appear amongst the above criteria. This of course made the selection process much more straightforward for the 13 strong team of judges for this special category of the British Construction Industry Awards since, aside from Piers Gough, few of this august crew of chief executives from contractors, engineering and design management consultancies and editors of technical publication would have been likely to press the quality architecture button. Still, while it might have been a busy week for the PM, he reassuringly found the time to endorse his award to the 'Alex', as it is known locally in Brighton, referring to it as "an outstanding achievement" and congratulating all involved "from design through to construction". Such perspicacity is naturally underwritten by his own outstanding achievement over many years in heightening architectural quality within his Kirkcaldy and Cowdenbeath constituency.
PR Tip # 6 – let's see the books
It's been an interesting time for practice birthdays – Gareth Hoskins Architects celebrated the 10th anniversary of the practice's foundation with an exhibition and the publication of the first of the Lighthouse's new series of architectural monographs. Mind you, other practices shouldn't look to the series as a likely p.r. opportunity for themselves since Scotland's Centre for Architecture Design and the City only proposes to produce one such book a year. Those who might feel a tad disadvantaged by this glacial publishing programme could, however, take a tip from our old friend Richard Murphy whose practice clocked up 17 years on the dial last week. At the time of his eponymous practice's tenth birthday, Richard not only published a monograph (under the imprint of the Fruitmarket Gallery) on his practice but also designed a sizeable exhibition of the firm's work with the help of the considerable amounts of sponsorship he raised for both projects.
Other practices such as gm + ad and John McAslan have financed books on their respective practice oeuvres, and, whilst in some eyes this might be deemed a form of vanity publishing, in the search for international commissions a book is well-nigh essential if your work is to capture the attention of new clients. Other countries recognise this and support their architecture sectors in this regard – the Netherlands and Norway being two obvious examples – whilst architects in Austria and Germany have well-established architectural publishing houses prepared to assist in the promotion their work. We have neither, so by and large it will have to be the do-it yourself approach – either as a kitchen table self-assembly job (not advised) or by employing a publisher to package it up for you.
The standard model for architectural monographs is fairly straightforward – an intro essay by some well-known name you can persuade to write (or put their name to a text) about your work followed by a project-by-project case study sort of arrangement, either in chronological order or by building type. The latter is more difficult if (a) you don't have too many examples and (b) the ones you have are not in the area of work you want to get into. If you don't have a lot of projects to show, the inclusion of aborted projects or failed competition entries can beef the overall package out a bit and deal with (b) above.
Now let's be practical – architecture books are not generally big sellers so don't let your ego get the better of you and think for a moment that any expenditure you make in this direction will wash its face. Regard the cost as part of your marketing budget and concentrate on distributing it to the key people you want to impress. Distribution is no small task however, so make sure you price in the postage, packing and time involved before you decide to print tens of thousands of copies. And if that all sounds like too much effort or beyond your resources, next week we'll look at what your website can do for you instead.
Tapas Awards
Regular visits to the petrol station at Cameron Toll in Edinburgh take me past the aforementioned R.Murphy's Conan Doyle Medical Centre, and as a result I've been able to scrutinise it quite closely both during its construction and since its completion. I mentioned above the practice's 17th birthday, but neglected to record that a party was held in said centre to celebrate the event. Pictures of the party (and the building) appear on the maestro's website and I feel it only fitting to announce – a full year on from its completion - that the project has romped away with the first of my Tapas Awards. Regular readers will recall that these are given on my personal whim to those buildings I deem to be good in parts, but on the evidence of projects looked at to date I've decided to augment the scheme with a further incentive – all project's that win a Tapas Award will still qualify for the previously mentioned annual Patata Brava Premio award but any practice that wins three Tapas Awards (over any timescale) will receive – and get to keep – a Katona Cross - in recognition of consistent performance.
And finally…
The credit crisis has clearly been the impetus some practices have needed to direct their energies into securing new commissions abroad. As someone who has always advocated the export of architectural services I would heartily endorse this but am a little disturbed to see that these energies are not always co-ordinated with Amnesty International's list of dubious regimes and a raincheck taken where appropriate. I mentioned Terragni and Mussolini recently as an example of outstanding architectural design being stigmatised by those with whom it is associated and by what it is intended to represent, but clearly there are some (and they know who they are) who have slept through the class on professional ethics and feel no shame in selling their skills to the odd despotic or totalitarian regime.
Let's be honest, nobody sourcing commissions in such countries is going to admit or accept that they are doing anything that is morally indefensible, so I'd make an appeal to others that might help isolate the problem: a simple statement on your practice website making clear that you have never and will not accept commissions in countries where human rights go unrecognised. And please, please don't tell me that spelling this out could lose you clients.
Back to October 2008