Civic hub leads regeneration of former Ellon Academy
June 9 2021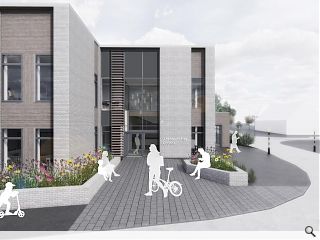 Aberdeenshire Council has lodged plans for a new Ellon base combining offices and community facilities as part of a broader rationalisation of its estate.
Located on the annexe of the former Ellon Academy, since relocated to a £36m campus at Cromleybank, the civic hub will provide space for 163 staff in addition to a Family Recourse Centre with its separate entrance and a public library.
Fronting the main route into the town centre at Bridge Street the build will step back on the southwest corner to provide an external public space, drawing inspiration from the original Academy building.
Formartine Area Manager Elaine Brown said: "This project represents the 'civic hub' of the Ellon Masterplan and follows the council's town centre first principles by ensuring the council retains a central presence within Ellon.
"The development would allow us to release a number of leased council buildings and free them up for other uses, such as retail. The building would also benefit from being close to other public services such as Police Scotland and Grampian Fire and Rescue Service."
Employing double-height vertical masonry piers for scale, infilled with a mix of timber and glass the hub will graduate between its civic frontage and a more domestic scale to the north, where a horizontal precast stringcourse halves the apparent height.
Landscape design is to be overseen by Wardell Armstrong and will include a mix of public art, feature planting and play space.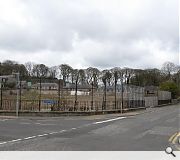 Ellon Academy was demolished in 2016 as part of a migration to a £36million community campus at Cromleybank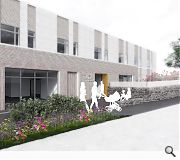 The civic hub has been designed in-house by Aberdeenshire Council
Back to June 2021