Extensions, Conversions: A review
October 6 2008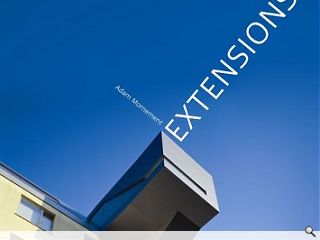 It is somewhat daunting to consider just how many books Kevin McCloud (and his seemingly inexhaustible 'Grand Designs' programme) have spawned. His name is already coupled with over forty disparate publications encompassing every imaginable aspect of the domestic realm including lighting layouts, decorative techniques and eco essentials. There are, of course, a host of other titles eager to tap into this lucrative market and target the moneyed classes in their quest to acquire that ever-elusive Dream Home.
Two recent books from Laurence King Publishing, 'Extensions' and 'Conversions', promise to be "…a great resource for architects" but (sadly) seem more at home on the coffee tables of design conscious clients than an essential addition to any architect's library.
The format for both books is similar and presumably must be successful in generating sales. The trick, it seems, is to focus on a pertinent subject, stir up interest with a considered yet succinct introduction, then dice the topic into four or five categories illustrating a diverse selection of completed projects from across the globe. Each chapter should have a catchy one-word title such as UP/UNDER/BACK/FRONT/SIDE (for 'Extensions') or RURAL/URBAN/LOFTS/RADICAL (for 'Conversions') with the emphasis on seductive colour photographs and diverting text kept to a minimum.
An alternative 'Blue Peter' approach might be to fillet some of your own treasured back issues of Wallpaper* magazine and achieve a more personalized selection. Either way, the final result would be what Tyler Brûlé, that doyen of so-called 'visual journalism', would denigrate as 'Designer Porn'. Nonetheless, such a catholic mix of projects can often help to galvanize discussions with domestic clients, especially if it's their first foray into commissioning a project and perhaps still anxious about investigating design ideas and concepts.
Gaston Bachelard wrote that: "Our house is our corner of the world …it is our first universe, a real cosmos in every sense of the word", and both books tap into a deep seated psychological need for the home to provide a refuge, a bulkhead against the vicissitudes of contemporary urban living.
'Extensions' accommodates 39 case studies, some of which offer 'before' and 'after' photographs, but all have sections and plans with an invaluable scale bar. Perhaps somewhat surprisingly, there are no Richard Murphy projects but the book does acknowledge Rick Mather's seminal Hoffman House (1992) as the first all glass lean-to which generated a multitude of copycat derivatives.
The only Scottish project to be featured is Nord's no-nonsense 'Bell-Simpson House' (2004) in Strathblane which subverts the conventional typological subtleties between agricultural and residential. Their pared back brick box emphasizes the banality of suburbia and overturns the cozy predictability of bungalow living.
Other note worthy extensions include the 'House Ray 1' in Vienna by Delugan Meissi Associated Architects. This innovative rooftop addition to a 1960's office building exudes a "…flowing spatial continuum" which pays homage to early Co-op Himmelb(l)au and Zaha Hadid. It has already featured in a plethora of magazines and numerous books including Phaidon's '10x10 Architects 2' (2005).
This sense of over-exposure also afflicts the aptly named 'Rucksack House' which confounds everyday expectations and blurs the boundary between installation and habitation. Sited in Leipzig, Cologne and Essen, this timber-clad steel cage (9m2) is suspended from its host structure via steel cables anchored into the facade. Climbing into the 'rucksack' induces a 'floating' sensation with scattered glazing capturing fragments of sky, street and nature. It was showcased at the Venice Biennale 2006 and its popularity has elevated its creator, sculptor Stefan Eberstadt, to guru-like status amongst Germany's community of alternative thinkers, anarchists and eco-warriors. Nonetheless, we should not forget Roxy Music's prescient warning that: 'In every dream home a heartache'.
Mark Cousins
'
Extensions
'
by Adam Mornement
Laurence King Publishing
2007
ISBN-10: 1856694941
£25.00
'
Conversions
'
by Emma O'Kelly + Corrina Dean
Laurence King Publishing
2007
ISBN-10: 1856694860
£25.00
Back to October 2008