Wilson's Weekly Wrap: You can't keep a good man down, Murrayburgh & Scooping prizes
October 6 2008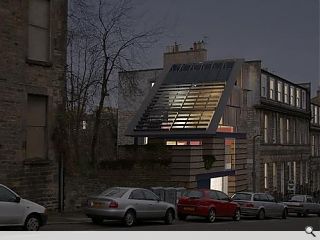 You can't keep a good man down
In character with its fairly long history of schizophrenic decisions, the City of Edinburgh Council's Planning Committee this week went against its own officers' recommendations for refusal and granted permission to Richard Murphy to build a new home for himself in Hart Street. A decision had been expected from the Committee at its meeting on 9 September but for some reason unbeknown to the Wrap it took until now for the white smoke to appear from the chimney of the City Chambers. Not that the delay should worry our man in Fishmarket Close – a month is nothing compared to the time and energy an appeal would otherwise have required.
More to the point, could it actually be that the Committee members are beginning to wise up to the fact that their officers' recommendations more often than not lead to appeals that the Council invariably loses, a time-consuming and costly indulgence that also brings heaps of opprobrium on the elected members. Richard of course has a new problem – he has nobody to rail against now on this one, but give the boy credit for his speedy reaction: he still managed to get himself quoted in the Scotsman to the effect that such a planning turnaround rarely if ever occurred, the inference presumably being that this was just reward for all the times he's had to appeal against refusals. After his Haymarket hotel planning success, though, this could well ruin the anti-establishment hair shirt he's so delighted in wearing over the years. Before the anti-fur lobby gets in a tizz about this, I'd like to re-assure them that it's not actually real hair: it's a faux material known as Katona.
Murrayburgh
Richard of course has long since lost his position as the capital's public enemy number one, a role now more than adequately filled by the city's new W.H.Playfair. Anyone seeking evidence of the veracity of this can find it on the 'Independent Republic of the Canongate' website although whether you find its contents humorous or not depends, I suppose, on which side of the Caltongate fence that you sit. The website takes a satirical shot at the City of Edinburgh Council's relationship with the project's masterplanner, Allan Murray. Suggesting the capital be renamed "Murrayburgh" in recognition of the sheer number of projects the architect has on the go in the centre of the city and of the ones his eponymous practice has already completed, the website even offers tours of Murray's projects to replace the Ghost and Witchery walks that are so much a part of the 'old' Edinburgh that his plans – his opponents insist - will destroy.
Allan of course has more on his plate to worry about than Caltongate. The Scotsman has taken to describing his redevelopment plans for the St James' shopping centre and the former Scottish Office building that looms above it as 'controversial' or, to be more precise, it uses this adjective when referring to the proposed 'gherkin' hotel at its centre. The hotel's height has now been reduced and the developers, Henderson Global Investors, now promise that none of the new buildings – including the hotel – will be higher than the existing buildings on the site. This will no doubt delight Historic Scotland, the Edinburgh World Heritage Trust and the Cockburn Association, all of whom have apparently been lobbying hard against the hotel tower. Now, I don't want be a killjoy here, but isn't the dominating height of the existing buildings one of the main reasons why everyone hates them so much? Forcing the developers into only rebuilding to the same level could be seen as a bit of a pyrrhic victory, but then this is Edinburgh, a city whose conservation bodies know all about maximising publicity for triumphs in small battles whilst allowing the real war against crass city centre overdevelopment to endlessly continue. I believe its called raison d-etre.
Scooping prizes
Weeks ago I explained the reality of architectural awards - ie that if you apply for loads of them you have a pretty good chance of getting one - so I'm indebted to Gordon Murray and Alan Dunlop (gm + ad for aficionados of architects' acronyms) for indirectly drawing another excellent example of the genre to my attention. This time it's the 'International Architecture Award' given by the Chicago Athenaeum Museum of Architecture and Design– the windy city's architecture centre – in league with the hitherto pretty much unknown but grandly styled 'European Centre for Architecture Art Design and Urban Studies' based somewhere in Dublin. The latter's economy with punctuation is matched by its graphically-challenged website – a home page with a link to an application form offering the opportunity to contribute loadsamoney to its coffers in return for unspecified membership benefits. The Chicago Athenaeum, by contrast, has a rather more believable internet presence, including the invitation to enter its awards for a mere €300 a shot.
Now it's obviously my ignorance because I wasn't previously aware of this particular
scam
scheme, but I am intrigued by the almost complete lack of categories, selection criteria or intelligible judges' comments on the projects selected for awards. Nevertheless, I would heartily recommend that architects aspiring to be 'award winning' immediately send in their cheque and some pictures of their projects as they would appear to have a better than average chance of securing a prize. And that's any projects – there doesn't appear to be too much of a time limitation on when they were completed: in fact, they don't even need to have been built.
To be fair, the scheme's award-winning projects are generally good ones and Scotland hasn't done too badly in this scheme over the past few years either - the website archive shows that Page\Park's Maggie Centre in Inverness got one of the 33 prizes awarded in 2006; 2007 was a bit of a fallow year – nothing among the 57 strong prize list; but 2008 saw two projects north of the border triumph out of a bumper list of 114 awards – Zaha Hadid's Maggie Centre in Kirkcaldy and Hazelwood School in Glasgow by the aforementioned g + mad. Alan Dunlop has been quoted as saying "this is the award we really wanted" and I can well understand why – spending €300 and not getting a result in these particular awards would be a real slap in the mush. More to the point, though, Hazelwood School is by a country mile the best project his practice has ever done. No flim-flam, no daft material choices and a sensitivity to function that deserves to receive many, more reputable plaudits.
Architectural Competitions – some you win, a few even get built
Regular readers will know that I am – and have always been – a believer in the value of architectural competitions, regarding them as a far more democratic and transparent route to the development of the built environment and a means of ensuring the best designs and finest talent emerge to deliver key projects. OK, so my conviction is based on experience in other countries, UK history in this area being rather less than convincing, a fact confirmed by a recent RIBA study that shows more than a third of its competitions in 2005, 2006 & 2007 failed to deliver a built result. In 2005, 6 of l4 schemes were, to all intents and purposes, scrapped. The RIBA takes heart from the 2006 and 2007 results - only 7 of the 12 winners in 2006 hit the rocks whilst 2007 proved a bit better with only 8 out of 22 facing difficulties.
Unsurprisingly the main reason given for what can only be described as pathetic results is the lack of funding for projects – this before any glimmer of a credit crunch appeared on the horizon. Now I don't know how often I have to put this in writing but the big difference between competitions here and in – say – Finland or Germany is that the political issues and the assembly of the funding packages in these countries are generally resolved before any brief is written and a competition launched. In the UK – and I don't exclude Scotland here as I suspect our statistics are just as depressing as those from down south – we tend to launch competitions in the naive hope that the results will resolve political differences and/or provide the necessary marketing images for fundraising purposes. The net result of this approach is precisely the one highlighted by the RIBA's study – too many projects fail to proceed because the dosh to build them doesn't exist. For professional institutions to take a management fee for organising competitions without verifying whether or not the client genuinely has the funds in place to construct the winner is a serious abdication of responsibility to their members and the many other architects who commit a great deal of time, talent, energy and entrance fees to these projects.
At the very least a version of the system that works well in Germany would raise confidence in the process – architects are invited to register for the brief; registrants can then, on reading the documents, either decline to enter or submit their entrance fee; on receipt of the fee a site model and drawings are sent out to competitors; and finally those registrants who send in a full submission have their fee refunded in full. Simple, transparent and a strong incentive to the organisers to ensure they've got their project management act together.
And finally…
A while back I invited Wrap readers to let me know of any unusual modes of transport they used to get to and from the office or site and the latest applicant for the prize of having the most intriguing travel option is lighting designer extraordinaire Kevan Shaw. Over the twenty years or so that I've known him, Kevan has exhibited a remarkable skill in uncovering vehicles that have been very easy to resist accepting lifts in. His latest - a 1961 Solex – apparently uses only one litre of fuel a week. Now while I'm perfectly prepared to accept Kevan's claim that it provides a massive reduction in his carbon footprint (given that he had a fleet of ancient gas-guzzling Land Rovers before) but truth is, I have no idea what a Solex is and a quick squint at Wikipedia hasn't helped. Apparently Solex make (or made – hard to telI really) carburettors but there is an obscure reference to the Velosolex – the kind of powered bicycle usually seen with a corpulent French farmer perched uncomfortably on its saddle. If this is the kind of vehicle Kevan now thrashes around Edinburgh upon, I sincerely hope his daily endeavours haven't transferred themselves from lumens to alliums.
PS – No PR Tip this week for those seeking their latest fix on the subject. I promise a double helping next time.
Back to October 2008