Urban Realm publishes crisis roadmap
April 12 2021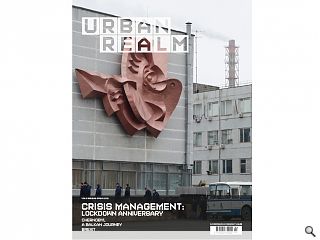 Subscribers can now access the first of our 2021 publications with an in-depth look at crisis management as a clutch of anniversaries show just how normal abnormal can be.
We begin the story by marking the 35th anniversary of the Chernobyl disaster, a test case for how modernism would survive an apocalypse the area is now in the running for UNESCO World Heritage status.
Closer to home we speak to photojournalist Chris Leslie to mark the 25-culmination of efforts to document the recovery of the Balkans from genocide through imagery that is both haunting and beautiful.
It's a crisis of a more immediate and political kind which has been vexing architects recently, we ask what impact Brexit has had in the first months since Britain's formal departure from the European Union.
Global events naturally command the greatest attention but it is the personal connections that make the biggest impact. It is with sadness therefore that we mark the passing of urbanist and friend Willie Miller, direct from those who knew him best. A steadying influence at even the most cantankerous charette Miller bequeaths a lasting legacy in the form of his eponymous urban design practice.
We dedicate this issue to his memory.
Back to April 2021