Inverness Castle tourism bid on the home straight
January 20 2021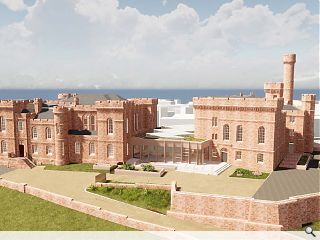 A bid to transform the A-listed Inverness Castle from a court and prison into a gateway for Highland tourism has been formally presented to planners.
Devised by LDN Architects with Optimised Environments the works will include a comprehensive conservation of the Castlehill buildings, improve accessibility and incorporate a range of new additions such as a cafe and viewing terraces.
Principal goals include reinstating the original front door of the South Tower as a grand formal entrance and the introduction of a single storey concrete link building connecting to the North Tower by infilling the current courtyard. Designed in conjunction with David Narro Associates this contemporary addition is conceived as a 'roof plate slotted between the two towers' and defined by crisscrossing concrete beams.
In an architectural statement, LDN observed: "The design concept for the roof references the decorative ceilings in the South Tower – a lattice structure is proposed with recessed ceiling panels, echoing the coffered ceiling in the main Court Rooms. The geometry of the structure is then arranged as sets of beams running in two directions – perpendicular to the North and South towers, which allows the two geometries to meet and creates a rhomboid grid.
"The structure is caught at either side by perimeter beams supported on columns, specifically arranged to relate to the symmetry of the castle elevations. The perimeter beams are set off the existing buildings, where glass roof lights are proposed to enhance the distinction between old and new."
Further additions include a dining terrace projecting out onto the west bank of the castle above the precipice of the bastion wall as well as a new roof terrace across the central bay of the south elevation.
As part of the work, the castle grounds will also be overhauled to introduce ramped access from the Castle Street, offering universal access to the main entrance for the first time.
The tender process to find a main contractor will begin in the spring following completion of ongoing enabling works.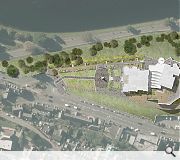 Optimised Environments will undertake a comprehensive package of landscape improvements to provide universal access
Back to January 2021