Thinking outside the box on St Andrew Sq
September 26 2008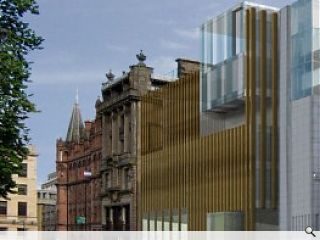 Following the sale of St Andrew Square by ING to the Australian group Stockland Halladale, Gareth Hoskins Architects, working in collaboration with Comprehensive Design Architects (CDA) have been re-appointed as architects for the third time. The 200,000sq/ft development, valued at £40million, is a flagship property for the firm.
Proposals seek to promote a bold contemporary solution for the office market whilst preserving the integrity of the A listed Forsyth building and B listed Kinnimouth & Paul building, considered one of the finest modernist buildings in Scotland.
Two new buildings are arranged around the central listed building which serves as the main point of entry. A series of external fins provide a degree of sun screening and render the façade solid when viewed obliquely to meld with neighbouring stone buildings. On upper levels the glazed façade of the building is indented against a changing rhythm of fins to create a dynamic pattern of loggias and shadowing.
Gareth Hoskins comments on the design challenges presented by the scheme: "We're responsible for designing the envelope, trying to make sure that when it's built it is realised as intended. Initially it was just about putting clothes on it but we can't really do that, we have to look at planning. It really took me by surprise how challenging these projects are to make into a piece of architecture because all of our projects before this have had very complex briefs, by the time you work them out your beginning to evolve a form and appearance and it's starting to tell you a story about the way the building works."
"On this project you're dealing with flexible office space and you don't necessarily know whether it's going to be subdivided or not because there is no tenant or clients yet so it's incredibly hard to make meaningful architecture. That's why you see so many of these huge glass boxes like that one on Bothwell street. The worst building in Glasgow, just dreadful. I see it's the home of Quantity Surveyors now. "
"We tried to create something contextual with St Andrew Square sandwiched between the Grade A listed Burnets, a fantastic building, extremely sculptural and then the 1960's Scottish provident building. You can begin to look at the broader urban issues around the square, the height and datums. Certain buildings pop up and create towers and events and we've tried to replicate that with the boardrooms and also at the corner where our building disappears, we've gone for a collection of buildings rather than one massive Aurora-esque building, a lump. That allowed us to deal with St Andrew Square, you've still got the pattern of original town houses and that allowed us to deal with a narrow vertical scale. We've rebuilt the corner, this dreadful little building which is always referred to as the collapsing corner. "
Demolition of the six buildings starts towards the end of the year with construction work following by summer of 2009.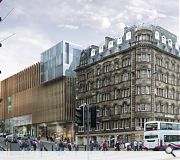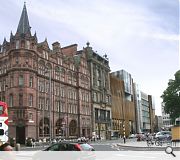 Back to September 2008