Population pressures drive expansion at Kirkliston Primary
January 6 2021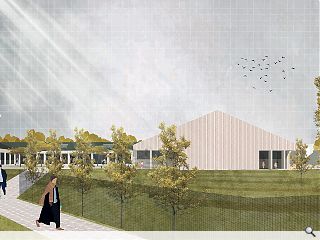 Holmes Miller Architects have extended their schools pipeline with the submission of plans for a co-located nursery and primary annexe at Kirkliston Primary, Edinburgh.
Occupying the grounds of Kirkliston Sports Centre the U-plan addition will frame a central playground, accessible from all classrooms and play spaces and is to be delivered in two phases to meet the needs of a growing population.
Finished in fibre cement vertical cladding with a single pitched roof accommodation is arranged sequentially by year group. In a planning statement, the architects wrote: "The single pitched roof form has been chosen to link visually with the adjacent detached and semi-detached residential properties as well as to settle into its open site.
"The external cladding reflects this nature with a light natural vertical plank cladding visually alluding to timber cladding whilst providing adequate fire resistance and dark cladding to the canopy areas highlighting the importance of the transition from internal to external learning spaces.
"The dark metal roof provides a sleek and elegant finish to the building making it strikingly contemporary whilst referring to rural and residential precedents."
In all the annexe will provide accommodation for up to 366 children at maximum capacity.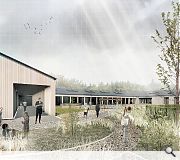 A classroom cloister will front the courtyard playground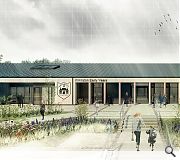 Four classrooms for primary 2 pupils will follow after deliver of early years and primary one accommodation
Back to January 2021