Wilson's Weekly Wrap: Waterfront Woes, Grand Designs & Houses by architects
|
Send to friend
September 22 2008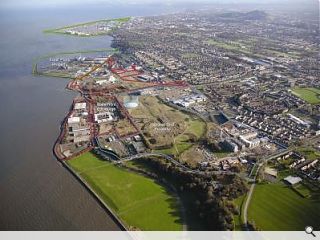 Waterfront woes
The development of the capital's coastline took another significant step backwards this past week when news emerged that Waterfront Edinburgh, the private company formed by the City of Edinburgh Council and Scottish Enterprise to regenerate the Granton area of the city, is in danger of breaching its banking covenants unless new financial backers are found.
The highly secretive company had a remit to deliver 8000 new homes on the 120 acre site, but, despite pretentions to have world class ambitions, its plans to do so and its successes to date would struggle to rise into the category marked 'abject mediocrity'. To some extent the company's problems are historic but the credit crunch has provided a good excuse to airbrush its failures from the record. Speaking at a recent Building magazine event in Edinburgh, the organisation's current chief executive, Colin Hunter, said the value of Waterfront Edinburgh had plummeted and that the recent fall in house prices that had left the firm's balance sheet "shot to pieces". "The Edinburgh market is very tough, the UK market is even tougher, but the Granton market – the flats market – has completely stalled. That has a major impact on our banking covenants." All, of course, true if you accept the statement at face value, but this conveniently ignores a highly questionable business model that largely predicated the development of the 120 acres site on speculative buy-to-let development, a market that was never on its own going to introduce quality investment or top class architecture to the area. As it is – and presuming the company can be propped up – its intended completion date for the area's redevelopment has been extended from 2017 to 2023 - a mere six years in a city that takes 200 to deliver anything noteworthy.
The company's role - to create the necessary infrastructure - required real money to be raised and the cute trick of putting what was previously Council-owned brownfield land into the pot, valuing it highly and raising capital against said valuation is a chicken that has now very definitely come home to roost. Recent housing market research by the Royal Bank of Scotland shows that development land values can drop as much as 70% if house prices fall by as little as 15%, the reason being that because construction costs can't be reduced, the fall in the anticipated price of properties has to come off the value of the land. Given the continuing failures of major banks and the ongoing move of serious money away from property, better investment opportunities than Waterfront Edinburgh are likely to attract the sovereign wealth funds Mr Hunter is now apparently seeking as long-term joint-venture partners. Councillors, understanding nothing of banking covenants, bless their cotton socks, are quoted as being prepared to 'sit on the land and wait for conditions to improve' (see earlier comment about 200 years). As things stand, the more probable upshot is a visit from the receivers unless the City of Edinburgh Council and Scottish Enterprise pump yet more public largesse into the operation. Given the company's track record of fairly questionable dealings, though, it's a public inquiry that's actually needed, not public money.
Mock the weak - addendum
The above was Monday's news: by Wednesday council chiefs – presuming everyone had, like them, already forgotten it - announced a need for a further £50m of transport improvements to "help reduce the congestion created by the thousands of people expected to move into the north of the capital over the next 30 years." The planning irony implicit in such a statement is as nothing, however, compared to the design challenge raised by one of the accompanying requirements: "all new developments must be within 250 metres of a defined public transport service." That should really solve the land valuation issue highlighted above. Whoever coined the phrase "you just couldn't make it up" should put Edinburgh on their summer holiday destination list: the Council's ability to do precisely that is becoming something of an art form and almost certain to be a Fringe highlight for years to come.
Grand Designs
All good things come in threes, as they say, so you've got to hand it once again to the City of Edinburgh Council – having consigned large bin bags of it's future funding into the black hole of a tram system that nobody voted for, it can't actually afford to upgrade Meadowbank Stadium or the Royal Commonwealth Pool or indeed to maintain many of the other facilities for which it has ultimate responsibility (now conveniently bundled into 'Edinburgh Leisure', one of its many arms-length companies). Its plans to bring the Kings Theatre into the 21st century seem to be continually kicked into the long grass too, but that hasn't stopped Dave Anderson, its recently appointed Director of City Development, happily promulgating ideas for an expanded 'cultural quarter' in the zone behind the Bermuda Triangle of the Usher Hall, the Royal Lyceum and the Traverse Theatre. Mr Anderson feels ".the ideal scenario would be to develop both a new film festival complex and a medium sized concert hall next to each other and create a high quality environment which would really revitalise this whole area."
Regular readers will recall me gently mocking (twice, I'm afraid) Richard Murphy for regularly dusting down his designs for a Film Festival building, but I confess I hadn't appreciated that career development plans for a new member of the Council's nomenklatura mean that the project might actually have some legs after all. Of course, Murphy's scheme isn't quite grandiose enough on its own, so a 1500 capacity venue "suitable for everything from classical concerts to pop, folk and world music gigs" is apparently required too. It would be nice to think that this suggested new home for the Scottish Chamber Orchestra could fill the gap between the (sometime, whenever) revamped Usher Hall and the affectionately-styled 'Pubic Triangle' of lap-dancing bars clustered around the Point Hotel, but I fear the financial geniuses running the Council will fail to find the funding for a fair few more of its existing projects before this notion hits the buffers too. Until the announcement of its final demise, though, you can depend on the grand plan generating a considerable number of positive column inches for Mr Anderson and – by default – Scotland's self-styled 'premier theatre architect'. And no, I'm sorry, but that's neither this week's pr tip nor its Katona moment.
Houses by architects
The volume housing market may be at a standstill at the moment but, at its top end, individual houses designed by architects seem to be holding their own if the property sections of last week's newspapers are anything to go by. A casual flick through the pages revealed two recently completed projects – the £1.9m + conversion and extension in Edinburgh's Murrayfield by Roxburgh McEwan Architects mentioned in last week's Wrap and an unusual £625k + barrel vaulted new house in Crieff by Fergus Purdie Architects.
Another eye-catching illustration – and presumably a snip at only £1.6m – is the "opportunity to create an architecturally designed family home" in the capital's exclusive Bruntsfield/Morningside quartier. Intrigued by the estate agent's ad that states "the subjects for sale comprise a substantial detached house which has planning permission to create a unique five bedroom house with private garden and swimming pool", I took a look at their mini-website for the project to discover that a fairly radical transformation of the existing, not unattractive Victorian villa is proposed. Judging by the extent of work required to achieve the strikingly modern interiors and rear additions illustrated, the purchaser will need some very deep pockets indeed, so good luck to Draw Architects (whose scheme it is) in securing a new and willing client for this one.
The address in Greenhill Gardens also caught my eye as it was a listed house by Esme Gordon in the nearby enclave of Greenhill Park that was the scene a while back of an extended battle between the City of Edinburgh Council (allied in this instance with Historic Scotland) and Alistair White, its architect-owner who wished to demolish it and refill the site with – yes, you're ahead of me – two houses by Richard Murphy. White had his numerous complaints against Historic Scotland's behaviour upheld even to the extent of forcing an apology from the organisation, but I can only presume the project has since fallen by the wayside because, uncharacteristically, no mention whatsoever of this highly speculative development appears on the 'no-contentious-project-without-an-award' architect's website. Hey-ho: Katona.
Shockeroonie
I have to say, my flabber was gasted by news this week on the architecture scotland website that the 'Six Cities Festival' had been scrapped by the Scottish Government. My astonishment, though was not at the demise of the "£3m initiative aimed at celebrating and raising awareness of the value of design and creativity in all of Scotland's six cities" but that it was still going at all and that staff were still being paid to work on it.
Now I know many of you will be struggling to recall anything whatsoever about the Festival but, believe me, some events did take place under the 'Six Cities' banner in Aberdeen, Dundee, Edinburgh, Glasgow, Inverness and Stirling from May to June last year. Given that the heather was hardly set on fire by its achievements, I took a quick look at the Festival website to remind myself what it had all been about and discovered two interesting facts – that it had been launched by Jack McConnell, erstwhile First Minister, and that it was intended to deliver a biennial programme of public events over a six year period. Given that the website doesn't seem to have been updated since the Festival finished last year, you'd be forgiven for thinking the project had died, but no – apparently a team has been tucked away in the Lighthouse ever since, nosebags being filled every month whether they liked it or not. The Architecture Policy Unit denies that said salaries have been coming from its funding, so given that it is the main financial supporter of the Lighthouse, it remains a mystery as to who's been coughing up the dosh. The architecture scotland website quotes one of the now jobless staff as saying "it's an f*****g disaster and you should be doing your best to expose Alex as the hypocritical b*****d he is". It seems a harsh charge – I don't remember anything in the SNP manifesto (presuming it's their Alex that was being maligned) before the last elections to the Scottish Parliament which said that – if voted into power - it would continue to featherbed such articulate advocates of design excellence. Moral for disaffected staff member though: he who lives by the politician dies by the politician.
Tip # 4 – Drip, drip, drip
Following on from last week's tip, not all of your contacts will be able to make it to the kind of reception mentioned – either because of apathy, diary conflicts or geographical proximity. No matter – the invite will have reminded them that you exist and continue to be busy. In situations where you or your client decide against a reception, you still need to announce to the world that the building is now complete. Whether it's a house extension or a major public building, the reason's the same: any publicity you generated when the project began – and it could be several years ago – will long since have been forgotten and its important to let people know it has now been successfully delivered. Think of it as several bites at the cherry – a news announcement when the job was commissioned, another when planning permission is obtained and again when work starts on site and finally more publicity when the job is completed. If the finances will stand it, have some postcards made up illustrating the finished project and send them out as widely as possible. Again, don't expect the calls to come flooding in as a result - this is just a simple, inexpensive way of maintaining profile. The key thing to remember is that on their own these initiatives don't have an impact – it's the progressive, drip, drip, drip of good publicity that slowly registers with existing and potential clients. And like the dripping tap, it has to be regular – the postcard as well as the one-line letter simply reminds the outside world that you are there. This is not the same as the telephone call or the e-mail to specific clients, nor has it the same value or purpose as a press release, but is instead a broad sweep of the public relations brush designed to keep your name in front of those people you think could bring some influence – however small – to bear on the future success of your practice.
Result!
Back in June I remarked upon how good it was to see two Scottish practices short-listed in a competition to design 500 new student flats at the University of Warwick, so it's a real pleasure to se that one of them has actually won it. Congratulations to Page\Park Architects for beating off well-known outfits like Stanton Williams, Schmidt Hammer Lassen, Fraser Brown MacKenna and David Morley Architects, not to mention the other 104 offices that originally entered. My commiserations to the other Scottish-based practice on the shortlist –you'll forgive me if I say that his name needs no further mention this week and that I have every confidence he'll bounce back from this setback and continue to seek projects furth of his Edinburgh base.
And finally…
I forgot to mention it, so readers not living in Glasgow won't probably realise that my final comment for this Wrap relates to an announcement that's actually a couple of weeks old but which I shamefully forgot to mention before. Once you've read on though, you'll appreciate that it's timeless really – as part of the 'Doors Open Day' scheme, Easterhouse is to become a weekend heritage trail for tourists. In yet another attempt to revive the fortunes (?) of an area you're unlikely to need reminding has some of the highest levels of poverty in Europe, visitors will be invited to take an open-top bus tour around its various attractions with a guide providing a commentary on significant architectural landmarks. Rosie Elliot, co-ordinator of the initiative is quoted as saying that Easterhouse had a rich heritage, adding, "it was an important area and a lot of Glasgow's religious history is shaped by happenings there." Quite.
Back to September 2008