Architecture Fringe Graduate Showcase goes live
August 4 2020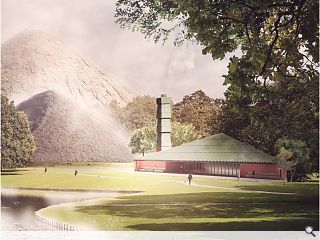 The Architecture Fringe have united over 170 architecture and landscape architecture students in a singular showcase of class-leading work.
Graduate Showcase is a digital collation of work drawn from Part 1 and Part 2 students of the Universities of Dundee, Edinburgh, Robert Gordon and Strathclyde as well as the Glasgow School of Art, surfacing work which threatened to go unseen following the cancellation of this year's degree show season.
Selected works were chosen for tackling a variety of critical issues facing both the profession and broader society; including a plumb idea from Glasgow School of Art's Murray Morrant to channel our 'flush and forget' culture into a force for good, by establishing new landscapes irrigated by wastewater and integrating new research and leisure buildings around a sewage treatment plant.
At the other end of the scale Euan Campbell and Alexandra Adams of the University of Strathclyde are bringing the circular economy to your morning coffee by using waste beans to help cultivate the Myselium fungus.
Neil McGuire of the Architecture Fringe remarked: "We've developed this new, national showcase to help graduating students in Scotland present and amplify their work towards a wider audience, an audience which includes other graduates, interested observers and, crucially, prospective employers."
Local in conception but global a dedicated website has been created to communicate these works and more to the public at large.
Back to August 2020