Dyce office park adapts to evolving live-work lifestyles
July 24 2020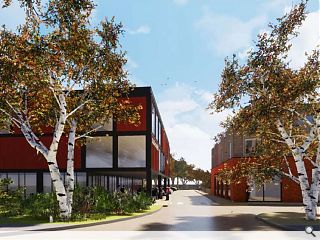 An unprepossessing business unit on an Aberdeen industrial estate is to be given a radical overhaul at the hands of Tinto Architecture into a mixed residential, co-working and makers space.
Alba Gate currently stands as an outmoded 1970s office building in Stoneywood Park, Dyce, with poor prospects of attracting tenants, leading owner XUSA Properties to seek alternative uses to maintain relevancy.
This approach will combine a programme of conversion and additions, to facilitate the change in use as well as overhauling existing landscaping and removal of some parking bays to provide communal amenity space.
Retaining the existing structure this approach will provide new insulated walls and recladding to provide a more practical and contemporary environment suitable for a live-work community complete with a gym, cafe and bar. In all the repurposed building will house 50 apartments, breaking down the repetitive bay structure of the current building with new cladding for a more domestic presence.
Rethinking the concept of office space from the ground up this approach will foster connections through shared hallways and outdoor courtyards accessible from a 'central avenue' off the main entrance.
Outlining their fresh approach the applicant wrote: "We propose a live/work/play/health concept, which looks holistically at what is required to provide happiness and quality living and which also responds to the needs of residents and local communities.
"In this regard, the aspiration is to create a neighbourhood hub that encourages residents and neighbours to share resources, skills, spaces and experiences sustainably."
A separate and much reduced purpose-built office building will also be created to the east, adopting a wedge-shape plan to minimise its apparent footprint.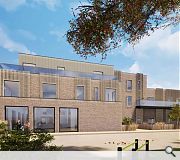 A variety of adaptations will provide offices fir for flexible working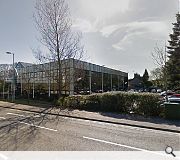 The current property, dating from the late 1970s, is both dated and inefficient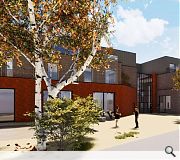 XUSA are specialists in commercial to residential conversions
Back to July 2020