Resource efficient home brings Dundonald equestrian centre full circle
July 17 2020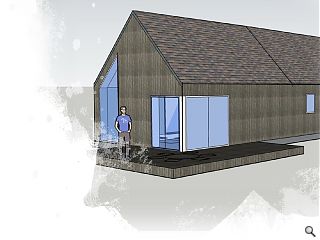 Proposals for replacement owners accommodation at Dunroamin Equestrian Centre, Dundonald, have been authored by ArchiStarchi in a new submission filed with South Ayrshire Council which champions its sustainability credentials.
Taking the place of a prefabricated cabin off Tarbolton Road the concept involves the creation of a modern dwelling built off-site to circular economy principles that is better suited to the site and needs of its owners, providing an adaptable living space and business premises.
In a statement, the architect wrote: "The design of the building will follow a completely different approach to a normal process where we will consider and address the carbon emissions that arise from the sourcing, processing, transportation, manufacture, construction and deconstruction of the materials proposed within the building.
"The house is seen not as a permanent structure like a perceived normal house, rather a house which can sit in the landscape then be deconstructed with materials and resources re-used at the end of its useful life."
Finished in timber and render the property marks an evolution of local barns and sheds with micro-renewables such as solar PV.
Rationalising the current haphazard layout the plans call for a realignment of access to allow the home to be sited towards the eastern boundary, distanced from the main road.
Back to July 2020