DS Architecture float flamboyant Edinburgh extension
May 6 2020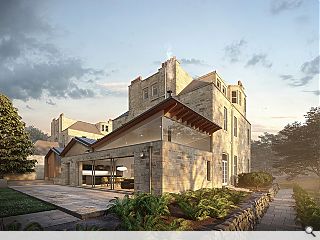 DS Architecture is proposing to build an exuberant 'floating' roof extension which will oversail an existing single-storey annexe to the rear of an existing property in Edinburgh.
Folding around a new extension, which will replace an unsightly garage with a gym, the space will be reconfigured as a dramatic open plan kitchen, dining and living space with a unified roofscape framing northerly views.
Project architect Dugald Skene told Urban Realm: "The scheme has been put forward for planning approval and is currently pending. The design seeks to reverse a number of unsympathetic interventions from the property's former use as a B&B, including the complete removal of the roof structure and opening up of the existing single-storey extension to the rear. The proposed space will form a new social heart to the house with kitchen, dining and living spaces all with aspect and access to the generous gardens.
"A new dynamic roof structure is proposed to 'float' above the existing structure and serves three key purposes – to respond to and respect the existing and proposed openings and features on the rear elevation of the house, to inform and 'zone' the functions within and to frame elevated views to the north through clerestory windows."
Visualisation reproduced courtesy of Dalgety Design.
Back to May 2020