Stairway to Venice
|
Send to friend
September 11 2008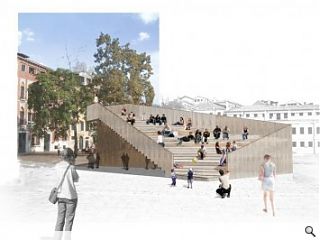 The prestigious Venice Biennale gets underway today and Scotland has booked a prime spot at the Piazzale della Stazione Santa Lucia, directly opposite the main train station. This presence aims to showcase the Scottish architectural scene to a world wide audience.
Designed by Gareth Hoskins Architects the exhibition takes the form of a series of steps hewn from Scots larch, this encloses an auditorium in addition to providing outdoor seating. Called A Gathering Space, this will provide a focal point for a series of discussions, film screenings and events in addition to the British Council pavilion.
Nick Barley, director of the Lighthouse, said: "…we thought rather than just talking about the state of Scottish architecture, we would build a piece of Scottish architecture in Venice… it is getting all the headlines in the trade press and everyone seems to be talking about it."
The exhibition is being organised by The Lighthouse, Scotland's architecture and design centre, with funding from the Scottish Government to the tune of £75,000.
Back to September 2008