Gareth Hoskins steps onto world stage
|
Send to friend
September 4 2008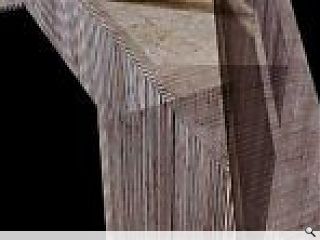 Scotland's dedicated presence at this years Venice Architecture Biennale takes the form of the Scottish pavilion, "A Gathering Space", created by Gareth Hoskins Architects. This expressive structure takes the form of a flight of stairs in the tradition of public stairs as seating and is being organised by the Lighthouse, with support from The Scottish Government.
Hoskins says: "Venice is a city of bridges and steps. As with many cities around the world these form places within the urban environment where people often pause, to rest, to meet or to simply watch the daily hustle and bustle of city life. This structure forms an intriguing new sculptural incident within Venice that creates both a formal place for events and an informal place where people can gather and observe the city from a new perspective."
A series of events boasting a phalanx of architectural superstars have been lined up to produce a series of debates and presentations running from September 11 to 14. These aim to tie together trends in place making and regionalism in architecture, together with the tangible difference that architecture makes to our lives.
Frank Gehry, who has won plaudits for his curvaceous, titanium clad forms and Zaha Hadid, poised to commence Glasgow's over budget transport museum have been announced as speakers. The debate will be chaired by Charles Jencks, a leading architectural theorist and landscape designer. Gehry and Jencks enjoy a close friendship and have worked together on a network of cancer treatment centres across the UK, each named after Jencks late wife, Maggie Keswick Jencks.
The venue will also be the setting for the launch of The Lighthouse Architecture Series of monographs on September 11. The first of these looks at Gareth Hoskins Architects as the practice marks its 10th anniversary.
An exhibition will run concurrently in The Lighthouse, Glasgow, from September 12 to November 2. Subsequently the display will move to the RIBA Gallery, London, from January 30 to March 1.
Back to September 2008