Moxon Architects win German bridge competition
|
Send to friend
November 28 2019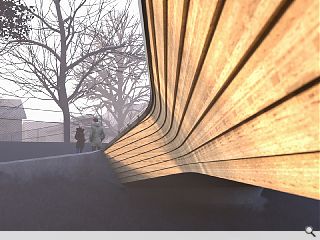 Moxon Architects have won an invited competition to design a timber bridge over the River Eyach at Balingen, Germany, in collaboration with engineers Ingenieurbüro Miebach.
The oblique crossing won the unanimous support of judges in praise of its sympathetic relationship with the riverbank and will serve as the focal point for the upcoming Baden-Würtemberg Garden Show in 2023.
The low maintenance design rests on a pair of 40m long tapered structural timber beams which flare outwards as they approach both banks while supporting a 3.5m wide deck for pedestrians and cyclists. Each beam will also extend above the deck to form a parapet.
Ezra Groskin, an associate at Moxon Architects said: "We look forward to working with a client who recognises the importance of sustainable infrastructure and a world-leading engineer fully committed to timber structures. The new bridge will strengthen the footpath network in Balingen and contribute to responsible regeneration.
"Furthermore we believe timber will continue to play a growing role in the UK's built environment and so are excited to bring the experience and knowledge gained through this European collaboration home where it will inform our approach to designing both bridges and buildings in this country.'
The outer face of the shaped glulam beams will be allowed to weather over time with inner surfaces clad in native timber slats with integrated lighting and handrails.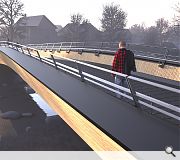 The bridge has been designed to be resilient to future flooding events while maintaining an accessible gradient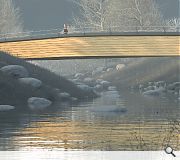 The bridge will connect a 40m span across both banks of the River Eyach
Back to November 2019