Buddies out of Love
|
Send to friend
September 2 2008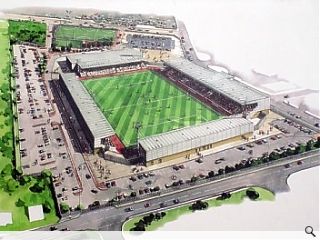 St Mirren FC are preparing for kick off at their new 8,016 capacity stadium, currently nearing completion at Greenhill Road in Ferguslie. An official handover date has been set for November 28.
The move has been borne out of a need to service debt via the sale of the Love Street premises to Tesco in a £15 million deal. The gates to this historic venue will close for the final time in the New Year.
Club supporters are planning to celebrate the move with a march from Love Street to the new ground. Season ticket holders have had the opportunity to choose their seats and fans have been paying £60 a brick to have their names displayed upon a wall of fame.
Sports presenter, Chick Young, has bought a brick in memory of his late father and son. He said: "I was brought up on Glasgow's South Side and the Saints connection came because my step dad was a huge fan.
"I have bought my dad and Keith bricks with their names engraved in their memory in the new stadium. It's just a gesture, but it maintains the link."
Back to September 2008