Jim Clark earns another chequered flag as Duns Motorsport Museum laps up praise
October 17 2019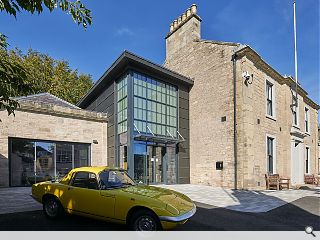 Scottish Borders Council has welcomed over 10,000 visitors to a newly reopened £1.6m museum in Duns dedicated to the achievements of British Formula 1 champion Jim Clark.
Opened over the summer the Jim Clark Motorsport Museum has been designed in-house by the council's own architects' section to memorialise the sportsman whose career was tragically cut short at the age of just 32 after a fatal racing accident at Hockenheim, Germany.
A subtle marriage of an existing B-listed Georgian villa and coach house, which previously housed the Jim Clark Memorial Room, the new museum provides much needed additional display space by way of a black zinc link structure which connects both buildings and doubles as a public entrance.
Significant structural alterations to the interior have allowed existing circulation to be completely reworked to enable an open-plan exhibition space to be created while a rear corner of the villas ground floor has been completely removed to leave upper floors hanging over a central reception space.
In this way, the ground floor public space now stretches to 270sq/m with offices and archives located on a private first floor.
In a statement lead architect, Ray Cherry wrote: "The museum has a Tardis-like quality that surprises visitors when they enter. The creation of a single space, subdivided into different zones, uses a combination of different physical heights plus natural & artificial lights to create spaces of differing intimacy & atmosphere, drawing the visitor on a journey through the building & Clark's life, career & legacy."
Andrew Tulloch, curator for the Jim Clark Motorsport Museum, added: "Jim Clark fans and novices alike have enjoyed our interactive experience, with our visitor feedback highlighting the trophy room, cars and videos as their favourite."
All images by Paul White Photography
Back to October 2019