Colony-style Galashiels homes win approval on appeal
October 1 2019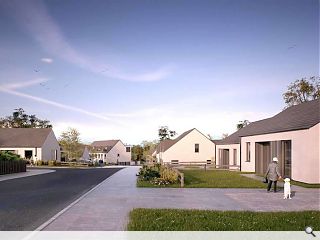 Eildon Housing Association and Collective Architecture have won an appeal to the Scottish Government to build 69 affordable homes at Coopersknowe, Galashiels, overturning an earlier refusal by Scottish Borders Council.
The reversal follows concerns that the planned inclusion of three colony blocks instead of previously approved homes would be 'overbearing' to existing cottages, undermining the character of the surrounding area.
Further concerns were raised about an increase in overall density to 31.3 dwellings per hectare including changing some bungalows and two-storey homes to two-and-a-half storeys, although this was also dismissed.
In a written response the reporter said: "I consider that the proposed colony blocks would be much larger than these cottages. However, in light of the intervening distance (45 to 50 metres), the difference in ground levels (approximately 8 metres), and the proposed planting on the boundary and around the play area, I do not consider that the height of the colony blocks would be overbearing or result in these cottages being dwarfed."
With this approval, Eildon has instructed Hart Builders to press ahead with the build with an expectation of completion by spring 2022.
Back to October 2019