University of Edinburgh health research hub secures funding
|
Send to friend
September 4 2019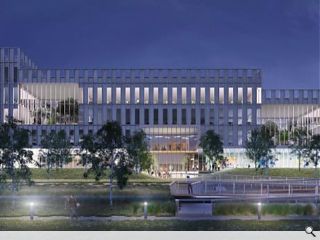 A £68m data-centric research institute spearheaded by the University of Edinburgh has won £49m of funding from the Edinburgh and Region City Deal, clearing the way for the

The Usher Institute will open its doors within Edinburgh Bioquarter by February 2023 with a remit to tackle healthcare issues via the power of data,

Designed by Hassell Studios the hub will facilitate research by encouraging collaboration by arranging accommodation around a sequence of hubs and common areas illuminated by multiple lightwells.
Professor Aziz Sheikh, director of the Usher Institute at the university, commented: "Our vision is to create a world-leading innovation hub where public, private and third sectors collaborate to enable data-driven advances in the delivery of health and social care.

"Through these collaborations, the Usher Institute will support a data-driven approach to the prevention, diagnosis and management of conditions, help improve health and social care provision in the city region and enable the development of a world-leading learning system for health and social care that can potentially be scaled across Scotland and the UK."
The new institute will be situated at the heart of Edinburgh Bioquarter opposite the new Edinburgh Medical School which is expected to open by 2025.
Back to September 2019