Enabling works underway at Glasgow Airport manufacturing district
August 28 2019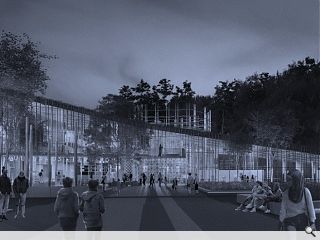 Work has begun to deliver enabling infrastructure for a new manufacturing district spearheaded by Renfrewshire Council on 52-hectares of land adjacent to Glasgow Airport.

The Advanced Manufacturing Innovation District will offer 1.6m sq/ft of floor space accommodating a range of occupiers including the National Manufacturing Institute and the Medicines Manufacturing Innovation Centre.

To deliver this promise a network of new roads, bridges cycle routes and footpaths are being built to connect a campus environment specialising in the development of green, technologically advanced industries.
Scottish Enterprise chief executive Steve Dunlop commented: "This site represents one of the most exciting and important developments for Scotland's manufacturing community in a generation. Once completed, it will significantly enhance Scotland's excellent worldwide reputation for attracting inward investors.
"Working collaboratively with our partners, we can help build more resilient and agile manufacturing businesses, offering high-quality jobs for local people that will positively impact their communities, Renfrewshire and all of Scotland."
Enabling works are expected to conclude by early 2021.
Back to August 2019