IES launch sustainable design plug in for SketchUp
|
Send to friend
August 26 2008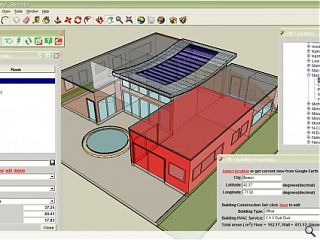 Integrated Environmental Solutions (IES) launch a free plug in to Google SketchUp, the popular 3D design tool, today. Critically this now enables sustainable practice to be undertaken at the earliest stages of the design process, where the maximum difference to environmental impact can be achieved.
The IES software provides an additional toolbar within the SketchUp application that grants access to a Virtual Environment. From here users can assign data to a raft of parameters such as, location, building type, room type etc. Properties for these inputs are then drawn from an extensive database to allow a dynamic real time output of energy, carbon and solar analysis amongst others.
Dr Don McLean, founder and MD of IES, commented: "I'm incredibly excited by today's launch, in many ways it's a culmination of 14 years of work. When I founded IES in 1994 my aim was to develop what were primarily academic tools and bring them into mainstream use. By linking our tools directly to Google SketchUp and continuing to develop different levels of interface we are making the sustainable design potential of performance analysis very easily available to a huge number of professionals."
Further information and a free trial download is available on the
IES website
.
Back to August 2008