Housing roadshow to inform new policies amid a fast-changing society
Send to friend
* Required fields
|
Send to friend
July 16 2019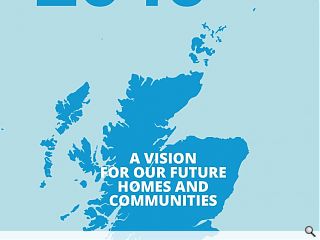 The Edinburgh School of Architecture and Landscape Architecture (ESALA) is to collaborate with Collective Architecture after winning an open tender process to deliver a new exhibition communicating the Scottish Government's future housing vision.

Housing to 2040 seeks to lay down a fresh set of standards over the coming decades informed directly by public consultation, principally via a travelling exhibition commissioned in partnership between Architecture & Design Scotland and the Scottish Government.

This will solicit views and feedback from attendees which will be used to inform a housing road map, scheduled for publication in spring 2020, which seeks to tackle issues such as an ageing population, a rise in single-person households and climate change.
Dr Kate Carter, ESALA, said "We are delighted to be working with Collective Architecture and Peak15 to create an interactive exhibition on housing for the people of Scotland. Housing is central to wellbeing and sustainability for communities. The exhibition will explore the role homes will play in creating a sustainable future for Scotland."
The exhibition will hit the road this autumn.
Back to July 2019