'Wave-like' Pinkhill homes capitalise on office retrenchment
|
Send to friend
June 3 2019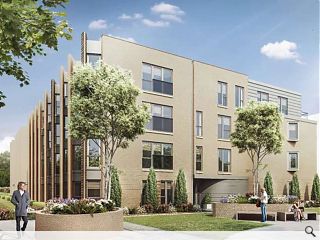 Dandara has come back with revised proposals to develop demolish Traquair House in the Pinkhill area of Edinburgh to permit construction of 46 apartments.
Superseding an earlier bid to create 75 flats the new plan will supplant a redundant office block with a mix of one to two-bedroom apartments alongside communal gardens.
Acoustic considerations precluded refurbishment of the existing steel-framed structure, resulting in moves to demolish the office space in favour of a new-build solution.
In a concept overview, Dandara wrote: "The proposed building fits in the similar footprint of the existing building to the northern edge. To the south, it is 'pulled back' from the line of the existing office to create an attractive landscaped south facing public open space. This open space also helps to open up the vista for the existing property No. 14 Pinkhill.

"To the west, the design has evolved to create angled façades which minimise the overlooking to the adjoining properties, this still being in the line of the existing building on the western boundary. This improves the degree of privacy currently enjoyed by the existing residents and will maintain the level of amenity in the neighbourhood."
The south facing amenity space will be flanked by 'wave-like' windows set at an angle to the western elevation to permit views north and south.
Back to June 2019