Glasgow Fort threatens city centre in new retail war
August 19 2008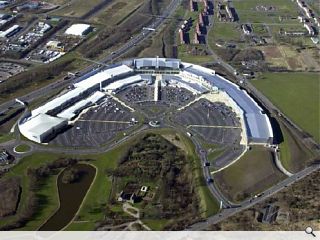 Hercules Unit Trust have applied for permission to extend the 37,000sq/m Glasgow Fort in Easterhouse by 16,000sq/m in a £25 million expansion designed by Cooper Cromar and anchored by Marks & Spencer.
The move has stoked fears, articulated by city centre retailers, as to the impact of continuing suburban expansion.
Planning chiefs have however recommended the proposal to committee saying: "The planning application comes with a retail impact assessment which demonstrates there will be minimum impact on the city centre and Parkhead and little or no impact on other centres."
"The council has negotiated a developer contribution of £10m towards town centre improvements such as the visitor centre, sports centre, civic hub and pedestrian improvements."
Occupying a semi circular plot, the outer circumference houses enclosed retail units fronting an inner ring designed to mimic a traditional High Street with the remainder of the site surrendered to surface parking. The development adopts a defensive posture to motorway travelers, occupying an elevated position ensheathed by a perimeter of refractive mettalic scales.
By the dismal standards of big box retailing Glasgow Fort is considered something of an exemplar with an imitation High St acknowledging desireability of a more traditional urban environment. This being accepted it seems strange that Hercules didn't adopt a real High Street connecting directly with neighbouring estates, as is the complex is architecturally and physically introverted from the sprawling mass of low desireability housing.
Back to August 2008