Egyptian Halls architectural competition seeks adaptive re-use ideas
Send to friend
* Required fields
|
Send to friend
May 13 2019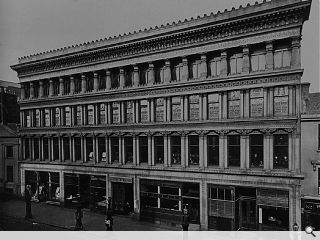 An international architectural competition has been launched by The Alexander Thomson Society to elicit design ideas for the adaptive re-use of The Egyptian Halls in Glasgow.
A response to the ongoing threat of demolition of the A-listed warehouse the competition is seeking to break a stalemate which has left the building in a state of limbo as negotiations with buildings owner Derek Souter stall.
To this end the competition seeks to raise awareness of the buildings current predicament by soliciting ideas for its repair and re-use, with no limit on creativity.
In a statement the society wrote: "By inviting wide ranging, purposeful and creatively sustainable ideas that respond to the spatial potential of its cast iron framed, open planned floor plates and its innovative architectural facades, the society sincerely hopes that the response will transcend previous proposals and extend the debate concerning a building which the society, amongst many other bodies and individuals, believe cannot be abandoned to quietly succumb, without action, simply to join previous victims of Thomson's already depleted range of buildings in the city."
Further details are available via a competition website with the winning submission to be revealed at a public exhibition of all entries, to be announced in due course. All entries must be received no later than 4 October.

Back to May 2019