Cutting edge design scythes blades of steel through Govan
|
Send to friend
August 18 2008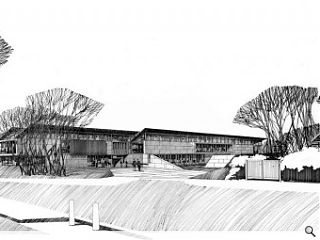 The South West Community Health & Care Partnership Headquarters by gm+ad is Glasgow City Council's current biggest capital project providing community care and office facilities for Govan.
A signature low slung building works with the contours of the land across a sequence of six linear blocks which shadow lanes of the adjacent motorway and interact with internal courtyards to provide light and break out space. Public and private areas are segregated by an east/west "blade" that scythes dramatic spaces through the light both within and without.
The scheme boasts strong environmental credentials promising to become Scotland's first carbon neutral building by harvesting rainwater, utilising natural materials and incorporating the mass of the land to provide insulation with roofs oriented to maximise daylight penetration.
Striking corten cladding and aerofoil roofs should cut a dash in an unattractive corner of Govan although the peripheral location combined with secluded form and setting does mute wider architectural impact. A more central location of urban character with better public transport links would have lent greater community presence to the design.
Back to August 2008