Pentland Trail Centre gears up for 2023 cycling World Championships
March 1 2019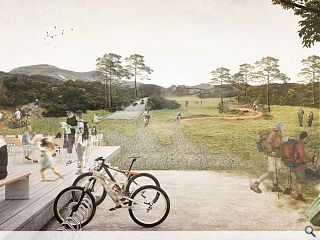 A new mountain bike trail centre for the Pentland Hills, including an enabling leisure based commercial development, has been proposed in readiness for when Scotland will host the 2023 cycling World Championships.

The Pentland Trail Centre will occupy the former Lothianburn Golf Course and has been masterplanned by HarrisonStevens Landscape Architects to make the most of the current topography to create 13km of mountain bike trails, a further 2km of zip lines, high ropes and an alpine roller luge.

The focus for these activities will be a new trail head centre set within a natural bowl to the eastern boundary of the site and in close proximity to public transport.

A commercial development is also planned to support this work and will include a café, retail, office space and accommodation 'pods', all situated in a valley to the rear of the Steading Inn.

Landowner Alastair McClung commented: "Our passion is to introduce mountain biking to a much wider audience, on the perfect site, right next to the city. It's the ideal use of the old golf course site and is a perfect gateway to the rest of the Pentland Hills. By introducing a commercial element the project can move from a vision to reality"

A public consultation on the proposed plans will take place on Tuesday 5 March 2019 at Swanston Golf Clubhouse, 111 Swanston Road, Edinburgh, EH10 7DS, between 14.00 and 19.00.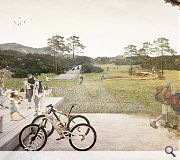 A hub building will nestle in the landscape to minimise impact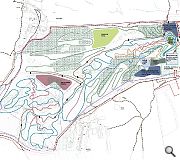 Consultations are now underway for the new centre
Back to March 2019