Country house provides template for Peebles apartments
February 18 2019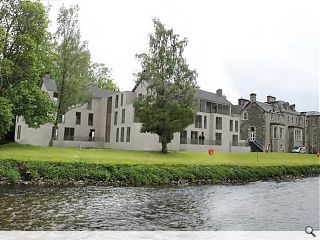 Zone Architects and Granton Homes have come forward with an application for planning in principle to extend Kingsmeadows House, Peebles, with a new build apartment block.
Renewing a prior consent the application would see the current country house remodeled together with the erection of new build flats on an existing play area to the rear.
In their site appraisal Zone wrote: "This site is considered suitable for development because it is not occupied by any mature trees, and being to the rear or east of the house it will not detract from its principle elevation which is to the front or west side. Furthermore the existing rear elevation of Kingsmeadows House is far from attractive with an unsightly water tower extension at the second floor level. This development has the potential to tidy up this view and provide a worthy elevation to the east, particularly when seen from the Tweed heading into Peebles. "
Enclosing a new rear courtyard the new build element is intended to match the scale and form of the3 current house while creating a new frontage to the west, employing sandstone, natural zinc and timber windows.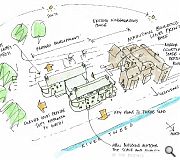 Curved gables offer a 'soft' termination to woodland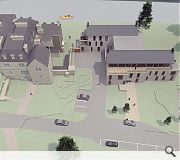 No mature woodland wood be felled for the project
Back to February 2019