Malcolm Fraser win Stromness Pierhead
|
Send to friend
August 14 2008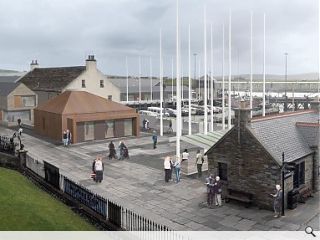 The award winning Edinburgh architecture practice Malcolm Fraser Architects has won a major international design competition, coordinated by the Royal Incorporation of Architects in Scotland (RIAS) on behalf of Orkney Islands Council, for the £3million redevelopment of Stromness Pierhead. The competition sought a number of new community facilities, enhancing the local library provision and creating a new multi-use community hall. The winning design was selected from a shortlist which included Graeme Massie Architects and Reiach and Hall Architects.
The Pierhead is the point of entry to Stromness for visitors from the sea and land. Its redesign requires an understanding of this long-standing role as a meeting place, a gathering space and a place of celebration for the community and for visitors. At present this exposed area is a mix of scattered buildings, car parking and roads, among which are set some particularly fine pieces of historic architecture which demonstrate a special relationship with the sea.
Andrew Wright OBE, Past President of the RIAS, who chaired the judging panel said: "All the entrants to this competition recognise that Stromness is a very special place, requiring a very careful architectural response. All three practices put an immense amount of work into designs which were all very impressive, representing three quite different approaches. However the scheme by Malcolm Fraser Architects in its sensitivity to the materials and built forms which define Stromness determined that this practice is the strong winner of this important international competition.
Graeme Massie Architects' proposal envisaged replacing the Victorian Town House with a new flexible facility which would connect the harbour area to the townscape behind. Reiach and Hall Architects' design proposed introducing a powerful new harbourfront building which would serve as library, meeting space, market area and community facilities, while creating shelter behind.
The winning submission, by Malcolm Fraser Architects, creates both a sense of enclosure and new buildings which delineate a landscaped public square. In scale, style and materials these buildings are designed to fit within the context of the town although their design introduces new highlights which are boldly contemporary.
Malcolm Fraser commented: "We're dancing a jig. We feel that we've made friends with Stromness: it's a neighbourly, independent-minded, passionate and involved place, with traditions of building that are particular, honed and sophisticated. We couldn't be happier to be offered the chance to work with all this."
Back to August 2008