Govanhill 'Stalled Space' to house 16 new homes
February 6 2019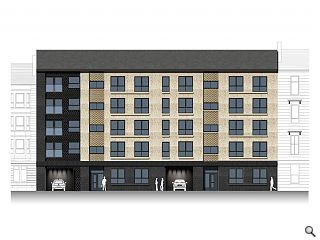 Vacant ground at Westmoreland Street, Govanhill, formerly occupied by the 1920's Hampden Picture House, and latterly used as a community park under Glasgow's 'Stalled Spaces' initiative could be filled with 16 new homes.
A five-storey infill block is proposed offering parking at ground level and a landscaped amenity deck at first floor, proportionately in keeping with neighbouring tenements.
In a design statement Sondh Associates wrote: "In its visual appearance, the development had to strike a fine balance between the vernacular character of the surrounding area and contemporary design trends, respecting the aesthetics of traditional tenements without looking as a gimmick.

"This has been achieved by implementing a mixture of finishes that complement the overall colour palette of the neighbourhood, but also provide a subtle contrast for a more contemporary look. In its use of buff brick, the building references the sandstone of adjacent tenements, while the use of dark brick serves to break up the elevation and give it a modern edge. The pitched roof of the development is to be finished with mock slate to create a harmonious transition between existing and proposed buildings."
Alternative brick bonding will be employed to add 'texture' to the front elevation with an extruded brick pattern used to highlight areas between stairwell windows and French balconies.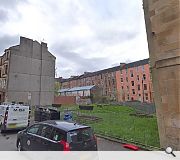 The vacant site is currently in use as a community garden
Back to February 2019