3DReid adapt to the crunch with 'MultiSpace' concept
|
Send to friend
August 13 2008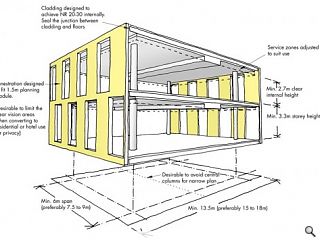 As recession fears loom, Scotland's largest architectural practice, 3DReid, is looking to stimulate the property development and construction industries with its MultiSpace concept.
MultiSpace is driven by a desire to reduce the waste of resources and potential revenue that stems from un-let purpose built accommodation. The key idea is to use design parameters that allow a change of use without any significant changes to the building shell, by designing generically an immediate response to the market can be made at minimal cost.
"This," says 3DReid Divisional Director, Tim Gray, "is surely the first principle of sustainable urban design. If successful adaptable space is achieved at a realistic price then landlords would be able to alter the mix of uses without altering the shell construction, thus maximising return at all times and minimising construction time and costs."
The root innovation of MultiSpace is the freedom to choose between mixed use
schemes
and mixed use
buildings
. MultiSpace allows developers to enjoy the higher returns and reduced risk associated with mixed use schemes without having to predetermine which parts of the scheme perform a particular use. The potential benefits in flexibility, phasing, identity of address and tenant demise are enormous.
Tim Gray concluded: "The construction of successful, adaptable spaces would promote a more even flow of construction work, less influenced by market fluctuations."
The practice has already delivered an example of adaptable building design at Grosvenor Dock in London, which has helped in the refining of the MultiSpace research. The Pavilion was conceived to provide either offices or residential flats next to the Thames. There is a large area of east facing glazed façade that overlooks a refurbished canal basin, which would allow the building to function as daylit office space. The actual demand was for flats so the building was constructed with insulated panels behind some of the glazing to achieve the required environmental performance. This gives an interesting variety of transparency and opacity and the process can be reversed if there is demand to use the building for offices in the future.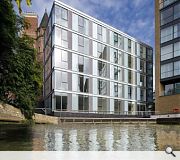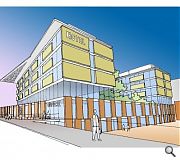 Back to August 2008