Planning requested for 125 Lochend homes
Send to friend
* Required fields
|
Send to friend
January 10 2019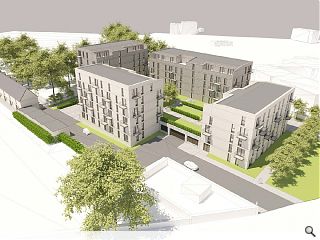 Dandara Group with CDA Architects have come forward with plans to build 125 homes at Edinburgh's Marionville Road, spread across four grouped apartment blocks anchoring a linear mews terrace.
Located in Lochend the scheme will maximise green space by placing car parking below a landscaped deck, providing gardens and amenity for the four flanking apartment blocks.
In a statement CDA wrote: "The building entrances are purposely set back from the street within landscaped courtyards to create a distinct entry space for each block.
"A change of materiality at the ground floor level and prominent signage clearly demarcates the entry spaces to the apartment blocks. Entrance canopies project out from the building line and provide a low-level shelter to protect residents on entry to the property."
Each building varies in height with entrance cores, bin and cycle stores all concealed within the ground floor level of each block.
The scheme follows an earlier application for 52 flats at a site to the immediate west.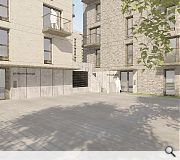 Properties can be accessed directly from the landscaped deck
Back to January 2019