Regeneration of Dundee's Mill o' Mains to complete
November 16 2018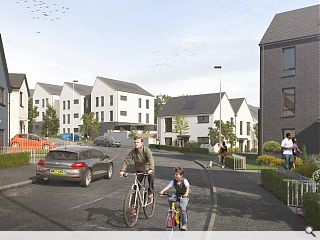 The latest phase of development at Dundee's Mill O' Mains has found its way to planning in the form of a request for full permission.
Authored by JTP and the Home Group the scheme calls for the staggered delivery of 300 energy efficient homes in the outer suburb, the first three phases of which have already been delivered.
The fourth and final addition will comprise between 40 and 50 homes including a mix of apartments, houses and special needs accommodation.
In a statement JTP wrote: "Mill O' Mains, Phase 4 is located along a strip of land sandwiched between Forfar Road (A90) dual carriageway and Hebrides Drive, which forms a defined perimeter around the bulk of the estate. It is split into two distinct sites, A and B, by an existing petrol station compound and the ramped springing point of the pedestrian bridge link to the nearby Fintry estate.

"Both sites were previously developed for housing. Demolition of all three storey apartment blocks took place in 2017 and the sites are now vacant and covered with grass."
Site clearance has already taken place on a strip of land bounded by Forfar Road and Hebrides Drive broken by a central petrol station.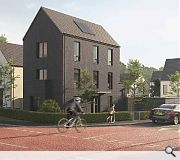 Cottage flats will have access to private gardens
Back to November 2018