Caithness nuclear archive powers through to Doolan win
November 7 2018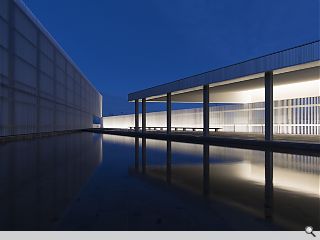 Reiach & Hall Architects have won the prestigious RIAS Andrew Doolan Best Building in Scotland Award for 2018 courtesy of Nucleus, The Nuclear Decommissioning Authority and Caithness Archive in Wick.
The industrial-scale intervention in a remote landscape won over the judging team which included Ryder Architecture partner Gordon Murray, Anna Lui, director of Tonkin Liu Architects and Murray Kerr, director of Denizen Works.
In a statement the panel remarked: "As well as a national archive of the UK's nuclear power industry, it is also the repository of the social history of Caithness. This building has many stories to tell.
"In an effort to give some depth of context to the rather anonymous site for the building on the edge of an industrial estate, the architects have drawn an allegorical tale on the landscape and big skies of the floe country and the magnificent horizontal light on which is founded the disposition of elements of the building- the pools of water and the triangular forms. However, for this jury, the rootedness of such a building firmly in the social and cultural history was a much more significant allegory. The building is a physical manifestation of the metaphysical, capturing both the identity and the nature of the space of its location.
"At a basic level the building is a sophisticated storage facility ordered along a logical system of servant and served spaces- the archive bunkers. However, it is with the addition of the support facilities and public archive in the triangulated forms, the planes of which shift in the vertical and the horizontal, and in the 'lochans' - the pools which signify each progressive level of security in the building, that the building comes alive. The long, triangulated prow creates a unique public space with a grand sense of arrival – this is indeed a public building. The immediate enclosure gives a sense of place where there was no context before."
Nucleus was chosen as the winner from a shortlist of 12 projects.
Back to November 2018