Granite city gains granite HQ
|
Send to friend
August 5 2008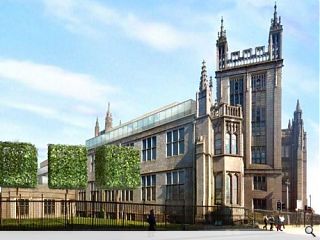 Holmes Partnerships plan to build a new £80.4 million HQ for Aberdeen Council within the historic Marischal College, the second largest granite building in the world, steps up a gear this summer.
Demolition of the interior will remove asbestos from the "rabbit warren" of college passageways, before the roof is removed and a staged demolition of each floor is carried out.
The move will be financed by relocating from present premises at St Nicholas House which is to be demolished by 2011 and sale of offices elsewhere in the city as council services are consolidated.
In addition to restoration of a world-renowned building, the central site maintains accessibility and keeps the spending power of more than 1,000 council staff in the city centre.
Depute council leader Kevin Stewart said: "
We have the intention to reinvigorate an iconic building and get rid of the biggest eyesore in the city, St Nicholas House
."
Back to August 2008